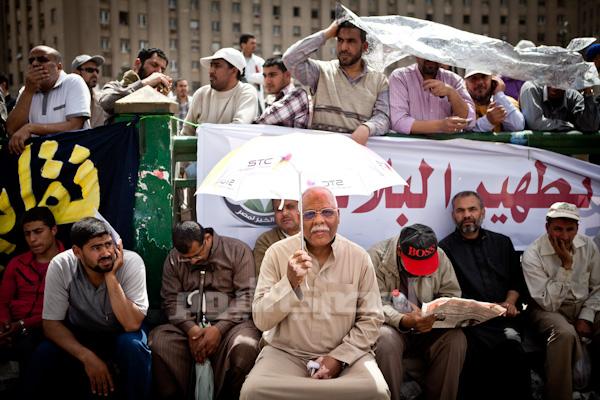 Muslim preacher Safwat Hegazy stressed in a speech directed to protesters in Tahrir Square following Friday prayers that the Egyptian people will never allow the old regime to be reproduced.
He added participants in the demonstration came to prevent all former officials from running the presidential race, not only former Vice President Omar Suleiman.
"We came to say no to Mubarak's deputy, no to Mubarak's prime minister, no to Mubarak's foreign minister, as we will not replace a traitor with another."
Hegazy directed his words to the ruling military council, saying, "Your are not standing at equal distance from all candidates. Our revolution will remain peaceful and we will remain one hand; we will remain revolutionaries until what we want is achieved."
"We do not want and we are not expecting the military council to approve the political ban law. We are not waiting for a handout or charity from the council; we are telling them that the people will bring the 'remnants' down," he proclaimed.
Hegazy stressed that the people would participate in the presidential election and say "No" to the remnants of the former regime, as they did in the parliamentary elections.
"No one will be able to forge a single ballot, and I say to everyone that we will be martyrs for each ballot box in the presidential election, and any hand that attempts the forgery of any ballot will be cut."
Several figures affiliated with the collapsed regime have announced bids for the presidency, including Suleiman, former Prime Minister Ahmed Shafiq, and former Foreign Minister Amr Moussa.
Revolutionary youth, other presidential hopefuls, Islamists and many MPs were outraged by their intention to run in the election. Parliament approved Thursday an amendment to the law on the exercise of political rights that would bar high-ranking former regime officials from running for office until the tenth anniversary of Mubarak's ouster.
Translated from Al-Masry Al-Youm