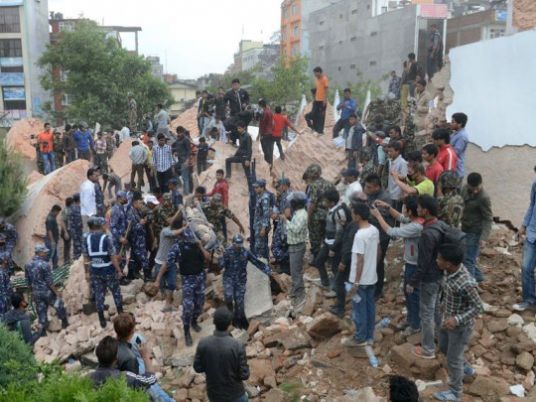 A shallow earthquake measuring 7.9 magnitude struck west of the ancient Nepali capital of Kathmandu on Saturday, killing more than 100 people, injuring hundreds and leaving a pall over the valley, doctors and witnesses said.
The most powerful quake to hit the impoverished Himalayan nation in 81 years also caused damage in neighboring Indian states and Bangladesh and triggered an avalanche on Mount Everest, the world's highest mountain.
A shallow quake is usually more dangerous because the amount of energy released is focused over a smaller area.
A Nepal police spokesman said the death toll stood at 108 according to an initial estimate, most from the Kathmandu Valley. There was little information coming from the outlying areas of the mountainous country and helicopters were circling overheard to get a sense of the damage.
"Hundreds of people are feared dead and there are reports of widespread damage to property. The devastation is not confined to some areas of Nepal. Almost the entire country has been hit," said Krishna Prasad Dhakal, deputy chief of mission at Nepal's embassy in New Delhi.
The death toll in northern India rose to at least 11, with six killed in house collapses in Uttar Pradesh and five more dying in Bihar further east, according to government officials.
The quake also triggered an avalanche on Mount Everest, climbers said, raising fears for those on the world's highest peak.