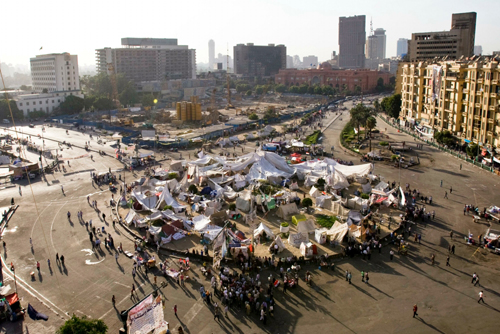 A protester died on Friday afternoon after succumbing to diabetic shock during a march from Shubra to Tahrir Square, Ambulance Authority head Mohamed Sultan reported.
"The demonstrator fainted in 26 July Street and demonstrators took him to Al-Helal Hospital, where he died shortly after being admitted," Sultan told Al-Masry Al-Youm. The protester's identity has not been verified.
Sultan said this was the only casualty reported as of Friday evening in the nationwide "Friday of Departure" protests.
Earlier Friday evening, dozens of protesters, including Black Bloc members, stormed Sadat metro station in Tahrir, blocking the train lines and chanting against President Mohamed Morsy's administration as part of the ongoing "Friday of Departure" protests taking place across the nation.
Metro commuters were reportedly fearful, as there were no security forces present at the scene. The Black Bloc is a previously unknown group that emerged during protests commemorating the anniversary of the 25 January revolution. They wear black masks and outfits and largely refuse to talk to the media.
On Friday afternoon, dozens marched from Sayeda Zeinab Mosque to Tahrir to demand an end to the rule of the Muslim Brotherhood.
Protesters chanted, "This time it's real, we will not leave it to anyone," "We got rid of a president who does not hear, to have a president who does not understand," "No backwardness, no Brothers," "We will discipline them, we will show them rage," and "You who is ruling by the name of religion, religion said: human dignity."
Several women participated in the march, some raising anners that read: "I am not an infidel, I am not an atheist, down with the supreme guide rule," and, "As long as the Egyptian blood is cheap, down with any president."
Several marches headed toward Tahrir Square from across Cairo after Friday prayer's to participate in the mass "Friday of Departure" demonstration.
Dozens headed from Fateh Mosque in Ramses to Tahrir, raising Egyptian flags and carrying one banner that read, "We will not be afraid of Brothers."
The protesters chanted, "Brothers cannot be trusted," and "Down with the supreme guide's rule," in reference to Muslim Brotherhood members and the group's leader.
A march of hundreds kicked off from Mostafa Mahmoud Mosque in Mohandiseen, another from Estiqama Mosque in Giza and another march including dozens of protesters from Khazendar Mosque in Shubra. Protesters held the Egyptian flag and chanted "Leave, leave," "Revolution, revolution until victory [achieved]," "They fooled us under the name of religion, the liar Brothers."
Dozens gathered in Tahrir on Friday morning in preparation for the demonstration, which demands the ouster of President Mohamed Morsy and the formation of a national salvation government. Marches organized by various political parties are planned to head to the square throughout the day.
Other demands include the dissolution of the Muslim Brotherhood, the dismissal of Prime Minister Hesham Qandil's Cabinet and the trial of those responsible for the killing of protesters in the spate of violence since 25 January.
They closed entrances to the square and street vendors spread through the area, reclaiming the square after being driven out by protesters on Thursday.
Some demonstrators set up a stage near Mohamed Mahmoud Street. When protesters attempted to set up another stage near the Egyptian Museum, others stopped them, arguing they shouldn't set up too many stages. They agreed to have only one single stage near Mohamed Mahmoud Street.
Banners were strung up in the square, reading, "Only Egyptian," "Oh Tunisia's and Egypt's people, Bal'eed, Jika and Christie's killers are the [Brotherhood] group, we promise retribution for them," and "The Brotherhood group and political assassinations." Another banner listed Morsy's failures between 2012 and 2013 under the title, "Where are we heading?"
Edited translation from Al-Masry Al-Youm