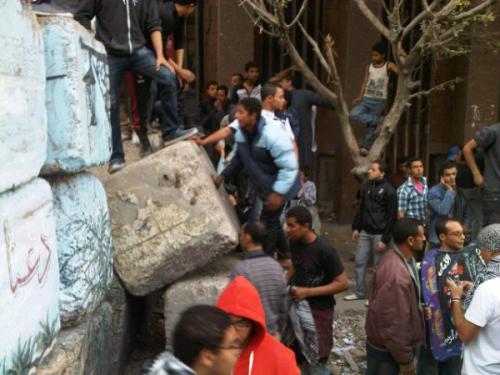 Dozens of protesters gathered Friday at the military-erected-wall erected on Qasr al-Aini Street in downtown Cairo and managed to pull a portion of it down, chanting slogans against the ruling military council.
Armed forces built the wall in December after clashes erupted at the nearby cabinet building. Then, protestors had opposed the Supreme Council of Armed Forces' election of Kamal al-Ganzouri as prime minister and his responsibility in forming a new government.
Some protesters stood on top of the wall, breaking the massive bricks with hammers and iron bars. Others tied ropes aroung the bricks to remove them. When protesters began the demolition early Friday evening, no security forces were present in the area. A chanting crowd gathered around the wall.
Within hours, a cordon of security forces wearing helmets arrive on scene, though separated from the protesters by a barbed wire fence. Reports said that more forces were gathering in the nearby Interior Ministry.
Protesters told Al-Masry Al-Youm that the move is initiated by activists who have no political affiliations and want to ease peoples' lives and the traffic problems that have been caused by the walls throughout downtown.
Armed forces erected at least three walls in different occasions since December clashes. The walls have seriously disrupted traffic flow in the crowded city center.
Translated from Al-Masry Al-Youm