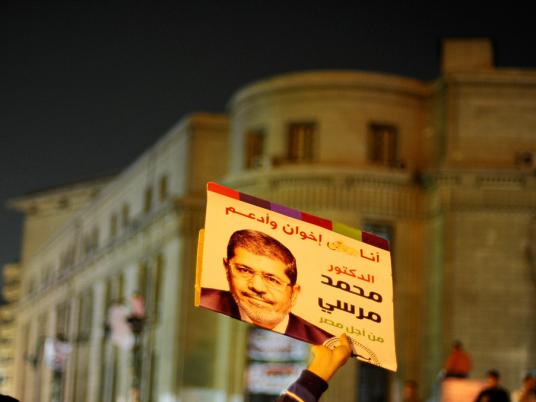 A third Freedom and Justice Party headquarters was stormed on Friday afternoon by anti-Brotherhood protesters.
After burning another headquarters near Leader Ibrahim Square in Alexandria, protesters set another FJP office in the al-Ibrahimeya district ablaze.
Alexandria security head Abdel Meguid Lotfy said four Central Security Force teams were sent to the FJP's main headquarters in the Semoha district to secure it.
Amr al-Demerdash, the media coordinator for the Kefaya movement, was injured in the clashes between revolutionary forces and Brotherhood members outside Leader Ibrahim Mosque earlier on Friday. He is reportedly undergoing cosmetic surgery for injuries he sustained to his face.
The Muslim Brotherhood in Alexandria responded to the situation by issuing a statement claiming that no Brotherhood members were involved in the clashes, because they had all gone to Cairo to rally outside of the presidential palace.
The Leader Ibrahim Mosque's speakers are playing Quranic verses and mosque leaders are urging the two groups to stop the violence.
Also on Friday afternoon hundreds of protesters attacked the FJP party headquarters in Port Said.
Members of revolutionary groups, leftist political parties and the Ultras chanted hostile slogans against the Muslim Brotherhood and President Mohamed Morsy as they threw rocks at the headquarters.
They chanted slogans including, "Sell, sell the revolution oh Badei (the Brotherhood supreme guide)" and "Down with the supreme guide rule," as they blocked traffic in both directions in the street in front of the headquarters.
This latest altercation in Port Said came on the heels of quarrels between opponents and supporters of Morsy that escalated into violent clashes in Alexandria earlier on Friday afternoon.
Eyewitnesses told Al-Masry Al-Youm that 15 were injured in the clashes as both sides hurled stones at each other, and at least five cars were smashed in the course of the violence. The confrontations led to a brief halt in traffic on the Alexandria Corniche.
Al-Jazeera Mubasher Misr reported that anti-Morsy supporters stormed the office of Freedom and Justice Party at the area and set it ablaze.
The confrontations began when Muslim Brotherhood members and revolutionary activists engaged in a shouting match after the Friday prayer in front of the mosque.
As the anti-Morsy marches encountered pro-Morsy marches organized by the Muslim Brotherhood, they began verbally sparring, leading to the clashes.
Thursday night, presidential spokesperson Yasser Ali announced the constitutional declaration, saying it was an attempt to end governmental corruption.
Edited translation from Al-Masry Al-Youm, additional reporting by Abdelrahman Youssef