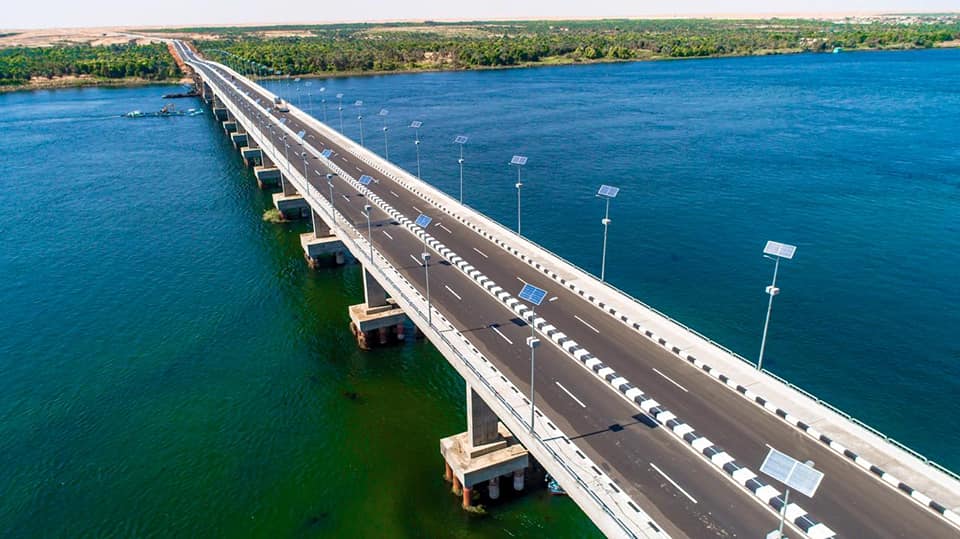 Youm7 reported on Wednesday that the new Kalabsha axis project in Aswan has been completed, and the road will soon be inaugurated by Egyptian President Abdel Fattah al-Sisi.
The project, implemented by Egypt's Ministry of Transport via the National Nile Company for General Constructing (NNGC), sought to connect the roads and cities on either side of the Nile River in Aswan.
The new corridor is 23 km in length and 21 meters wide, with two lanes of traffic in each direction and 14 tunnels and bridges crossing over and under preexisting roads. canals, and drains.
Among the bridges are a bridge spanning the Nile River, two bridges covering the eastern and western agricultural roads, a bridge over the western desert road, and finally, one cutting over the large Mallah drain.
The project's total costs weighed in at LE1.05 billion.
According to a
November 3 post
from Transport Ministry's official Facebook page, the corridor will ease the transportation of agricultural products from farms in the area, alleviate traffic on the eastern agricultural road, and serve the nearby villages of al-Dahir.
The axis will also serve a sugar factory and solar energy complex.
In October, Egypt's Minister of Planning and Economic development Hala al-Saeed said that the country's transport sector has investments estimated at LE119.7 billion in the 2020/2021 plan.
According to Saeed, the government's increased spending on roads and bridges since 2018 has contributed to a 46 percent decrease in road accident deaths by 2020.
Photo: The new Kalabsha axis spans the Nile River (The Egyptian Ministry of Transport/Facebook)