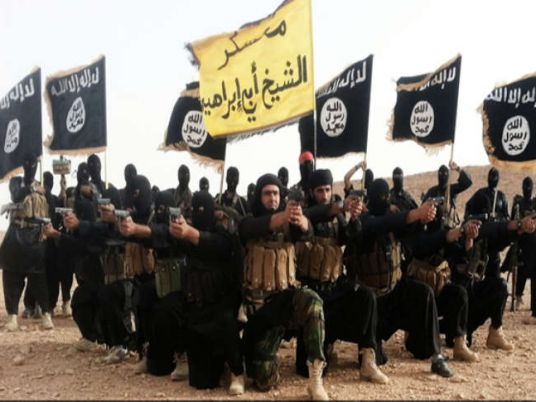 Abu Musab al-Maqdisy, the leader of Islamic State, called on jihadists to go to Egypt and move the battle to central Cairo to make authorities occupied. He also called for targeting armed forces convoys in governorates through car bomb.
The call was made after the terrorist group Ansar Bayt al-Maqdis in Sinai pledged allegiance to IS on Monday.
Madisy posted his "Advices to Egypt's Jihadists" in a statement on IS-affiliated Jihadi websites, saying, "It's imperative to move the battle to central Cairo, occupy the regime there so Sinai becomes a banned area for apostates and a base for supplying the jihad."
He also expressed support toward Ansar Bayt al-Maqdis's operations against police. "You have a good model in the Islamic State, when it used to strike Baghdad with dozens of car bombs almost daily or weekly," he said indicating to terrorist operations against governmental authorities and hotels in Baghdad.
He said that traveling to Egypt has become easier and urged carrying out terrorist attacks against security establishments of the Interior Ministry.
Maqdisy also called for targeting Copts and judges saying that "targeting, following and killing them is the main method through which we could serve the cause of our captives held by them."
Armed forces are currently establishing a buffer zone on the Sinai borders to secure it against terrorism and prevent the infiltration of extremists in the wake of the terrorist operation that killed around 33 armed forces personnel in Sheikh Zuwaid last month.
Meanwhile, Ansar Bayt al-Maqdis denied news over swearing allegiance to IS.
"The circulated statement attributed to us over pledging allegiance to theCaliph is not for us. Everyone should stick to accuracy and quote our official sources," the group posted on Twitter.
Reuters news agency reported on Monday that Ansar Bayt Al-Maqdis swore allegiance to Islamic State in a statement on Monday.
"After entrusting God, we decided to swear allegiance to the Emir of the Faithful Abu Bakr al-Baghdadi, caliph of the Muslims in Syria and Iraq and in other countries," the statement said, according to Reuters.
Ansar Bayt Al-Maqdis claimed responsibility for several terrorist attacks targeting police and military personnel in many places, especially Sinai, over the past few months.
Edited translation from Al-Masry Al-Youm