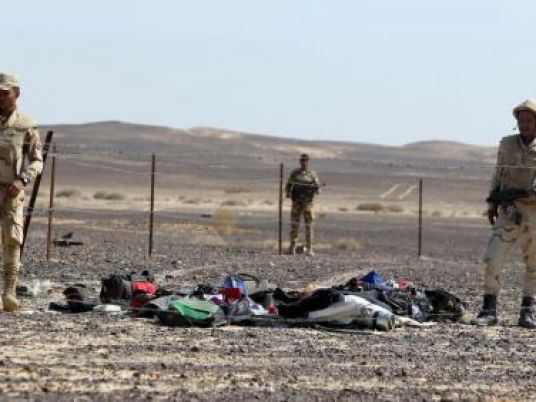 Neither the U.S. National Transportation Safety Board (NTSB) nor the FBI have been invited to join the Egyptian-led investigation into the crash of a Russian airliner in the Sinai Peninsula late last month, officials at the two U.S. agencies said on Thursday.
Representatives for the FBI said that the bureau had offered both Egyptian and Russian crash investigators forensic assistance and other investigative help, but as of Thursday its offers had not been accepted.
An NTSB spokesman said that for the last several days his agency had been answering technical questions from Egyptian crash investigators on an informal basis. Some questions have related to the plane's engines, manufactured by the U.S. company Pratt & Whitney, the spokesman for the air transport safety agency said.
But the spokesman said that no formal agreement had been struck between Egyptian authorities and the United States for the NTSB to participate officially in Egypt's investigation of the crash of Metrojet flight 9268, and that no such agreement is imminent.
The NTSB says it is normally asked to participate in investigations of foreign air accidents regardless of where the plane or engines were manufactured. The agency is automatically involved in crashes on U.S. soil. The FBI is often invited in cases where terrorism is a possible cause.
The NTSB has only offered its assistance to Egypt, the spokesman added, because that is where the plane crashed and Egyptian authorities have the lead in the investigation. No NTSB personnel are in Egypt to assist authorities there, the spokesman said.
The Metrojet flight, an Airbus A-321, crashed around 23 minutes after takeoff from the Sinai resort of Sharm al-Sheikh on Oct. 31 on a flight to St. Petersburg. All 224 people on board the plane were killed.
Many U.S. and European investigators believe the plane was brought down by a bomb, but have not ruled out mechanical failure or other possible causes. The Sinai affiliate of the Syria-based Islamic State movement issued messages claiming credit for the crash.
Neither Russia nor Egypt may be keen to share crash investigation data and results with U.S. experts, current and former U.S. officials say. Confirmation that militants brought down the airliner could have a devastating impact on Egypt's lucrative tourist industry, which was hit hard last week when Russia, Turkey and several European countries suspended flights to Sharm al-Sheikh and other destinations.
Relations between Egyptian authorities and the NTSB have been strained at least since the 1999 crash off the coast of Massachusetts of Egyptair 990, a flight from New York to Cairo. NTSB investigators concluded that the flight was deliberately plunged into the sea by a suicidal co-pilot.
Egyptian investigators attributed the crash to mechanical failure.