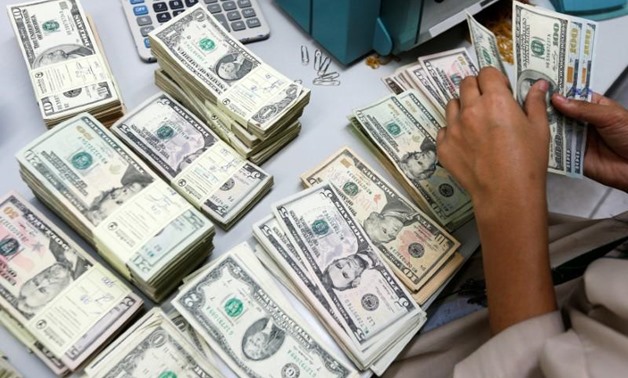 Prices for the US dollar and several other currencies varied against the Egyptian pound in several banks, the Central Bank of Egypt (CBE) said on Wednesday.
According to the updated prices, the average price of the US dollar was LE16.07 for purchase and LE16.20 for selling. Dollar prices have fallen steadily in recent months. The dollar price was LE16.08 for purchase and LE16.18 for sale in the Commercial International Bank on October 25.
The average price of the euro was LE17.87 for purchase and LE18.01 for selling.
The average price of the sterling pound reached LE20.74 for purchase and LE20.91 for selling.
The average price of the Saudi Riyal was recorded at LE4.29 for purchase and LE4.32 for selling while the average price of the United Arab Emirates Dirham recorded LE4.38 for purchase and LE4.41 for selling. The average price of the Kuwaiti Dinar was recorded at LE52.98 for purchase and LE53.34 for selling.
In an attempt to revive its economy that began faltering in 2011, Egypt obtained an IMF loan in 2016 in exchange for the implementation of a rigorous reform program, beginning with floating the pound.
Implementation of the program began in November 2016. The international lender agreed to provide Egypt with a $12 billion loan in exchange for wide-ranging structural and economic reforms.
These reforms include a raft of measures such as devaluing the pound currency, loosening capital controls, ending energy subsidies, reforming public enterprises and overhauling monetary policy, all in a bid to restore economic stability and long-term growth.
Edited translation from Al-Masry Al-Youm