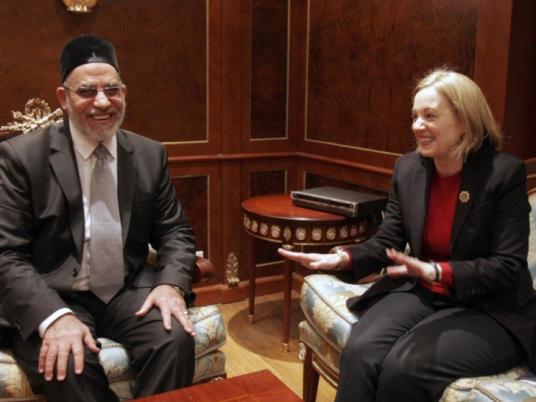 The US Embassy in Cairo on Wednesday said that Washington is not seeking to destabilize Egypt or prevent the achievement of the objectives of the revolution, denying recent reports claiming this, which the embassy described as utterly incorrect.
The embassy also said the United States appreciates the depth of its long-term partnership with Egypt, strongly supports Egypt's transition towards democracy and shares people's aspirations for a strong, stable and prosperous Egypt.
In its statement, the embassy explained that American non-governmental organizations are part of US efforts to support democratic transitions in a number of countries around the world, adding that their work in Egypt has been transparent, assisting Egyptian civil society and political parties in the preparation of the first truly democratic elections in Egypt.
The statement also said that the Egyptian government had recognized the National Democratic Institute and the International Republican Institute as viewers during the People's Assembly elections.
Meanwhile, Rashad al-Bayoumi, deputy guide of the Muslim Brotherhood, claimed that US Ambassador to Egypt Anne Paterson leads a US-Zionist scheme to induce sedition in Egypt as she did in Pakistan.
"She has a miserable past of crimes committed in Pakistan," Bayoumi said.
In an article that was published Wednesday on the group's website, entitled "What Next," Bayoumi wrote: "The American-Zionist scheme cannot rest if the heralds of freedom hover over the Arab and Islamic societies, which is why this ambassador was chosen to incite sedition in Egypt."
Translated from Al-Masry Al-Youm