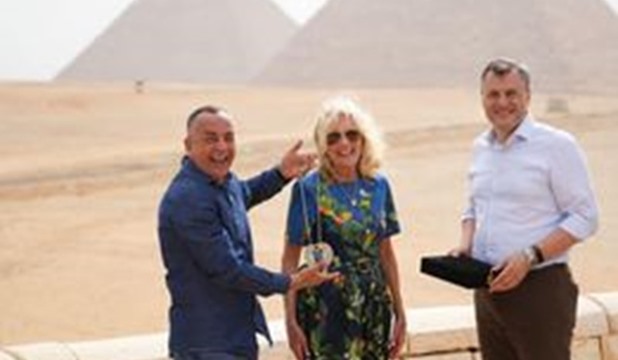 Tourism and Antiquities Minister Ahmed Eissa and Secretary General of the Supreme Council of Antiquities Mostafa Waziri granted a pharaonic necklace-shaped souvenir to First Lady of the United States Jill Biden at the end of her tour at the Giza Pyramids.
Mrs Biden, who on Saturday visited the Giza Pyramids and toured around the plateau and the Great Pyramid of Khufu, extended thanks over the souvenir.
Mrs Biden was accompanied by Minister Eissa and Acting US Ambassador in Cairo John Desrocher.
She posed for photo ops and was keen to go on a walk for the Great Pyramid to enjoy every moment and every step in the area that stands testament to the great Egyptian civilization and history.
Jill Biden arrived in Cairo on Friday on the second leg of her six-day trip across the Middle East, North Africa and Europe.