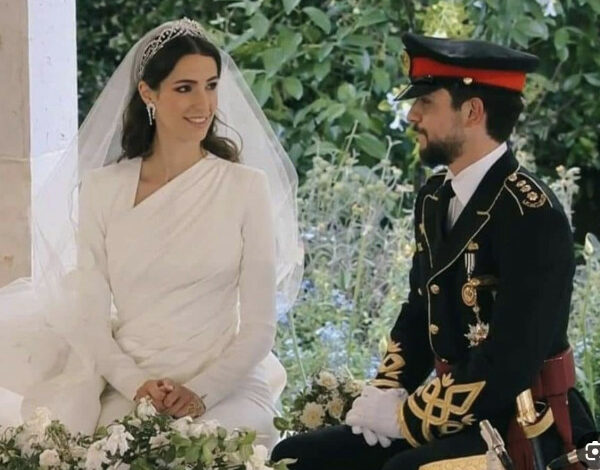 Egypt's first lady Intisar al-Sisi – wife of President Abdel Fattah al-Sisi – and their daughter Aya al-Sisi attended the wedding of Jordan's Crown Prince on Thursday.

The Jordanian Crown Prince, Al Hussein bin Abdullah II celebrated his wedding to Rajwa Khaled al-Seif, at Zahran Palace, in the Jordanian capital Amman.

The royal groom wore a military suit to his wedding, inspired by the design of the suit his father wore at his own wedding.
While the bride arrived to her wedding in a 1967 Rolls Royce, which was made for the late Queen Zein Al Sharaf.
After the marriage contract was concluded, a royal order was issued to grant al-Seif the title of Her Royal Highness Princess Rajwa al-Hussein.
The wedding ceremony was attended by approximately 150 people, including members of the Hashemite family, state leaders, royalty and personalities from Arab and foreign countries.
Among the guests invited to the Jordanian Crown Prince's wedding were British Prince William, his wife Kate Middleton, and Jill Biden, wife of US President Joe Biden.
Sheikha Moza bint Nasser, the mother of the Emir of Qatar Sheikh Tamim bin Hamad al-Thani, also attended the wedding.
First Lady Sisi previously welcomed a visit from Jordan's Queen Rania to Egypt in January.
The First Lady tweeted that the Jordanian Queen's visit opened up windows of opportunity to discuss Egypt's astronomical leaps forward in enabling women and people with special needs to prosper – all as part of the state's Vision 2030 goals.