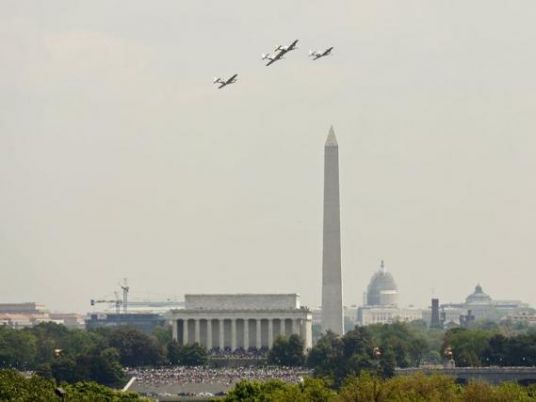 More than 50 vintage World War Two airplanes soared over the US capital's National Mall on Friday to mark the 70th anniversary of the Allied victory over Nazi Germany.
Tens of thousands of people crowded lawns between the Washington Monument and Lincoln Memorial to watch the 50-minute event, which featured 15 flying formations representing major battles during the war.
"I think it's wonderful that America remembers and…can afford to keep these old airplanes flying," said Bob Byrom, 86, who was one of the many World War Two veterans in attendance.
The non-profit group Arsenal for Democracy organized the 56-plane flyover, which included P-38 Lightning and P-51 Mustang fighters and the only B-29 Superfortress bomber still in flying condition.
"This is a slice of history that most people have never seen," said Brent Gulick, 60, from Rockville, Maryland. "You just saw planes that probably won't be around much longer."
The event marked the surrender of Nazi Germany on May 8, 1945. The United States produced almost 300,000 aircraft from 1941 to 1945, according to the National World War II Museum in New Orleans.
A handful of veterans on Friday flew in the same model planes they flew in during World War Two.
"It was nice, really nice. Brings back old memories," said Bill Hess, 91, from Bristol, Tennessee.
Roughly 700 veterans, dignitaries and donors watched the show from inside the World War Two Memorial, where a speaker narrated the event.
One of the planes, a Curtiss Helldiver dive bomber, developed mechanical trouble and made an emergency landing at Ronald Reagan Washington National Airport, a spokeswoman for the Washington Metropolitan Airports Authority said.
There were no injuries, she said. Reagan airport was closed to commercial traffic from noon to 1 pm to accommodate the flyover.