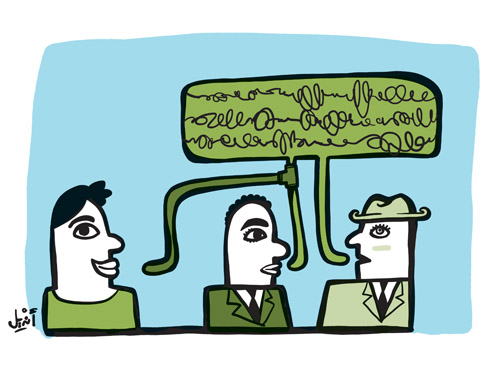 Salman Rushdie is a name well-known to Arabic readers, although his fame doesn't really come from his books. Instead, it originated from the fatwa Supreme Leader of Iran Ayatollah Khomeini issued in 1989 calling on Muslims to kill him after his novel "The Satanic Verses" was accused of blasphemy.
Thus, "The Disappeared," a 12,000-word autobiographical work published by The New Yorker on 17 September in which Rushdie discusses his life after the life-changing fatwa, is probably of great interest to the Egyptian reader — so interesting that it was translated into Arabic twice a few days later. This incited the expected denunciations for "insulting Muslims' feelings." But it also brought about accusations of plagiarism.
Amir Zaky, a translator, short-story writer, journalist and occasional contributor to Egypt Independent, published an Arabic, two-part translation of "The Disappeared" on his blog, Boring Books, on 21 and 26 September. On 27 September, the daily independent newspaper Al-Tahrir began publishing a serialized translation of the text in five parts.
As Zaky explains, Rushdie's story corresponded with the angry protests that swept Muslim nations against "The Innocence of Muslims" film released online on 11 September. He chose to translate and immediately publish the text because he felt that "we're going through a dilemma similar to the circumstances of 'The Satanic Verses.' We had to recall a different understanding of that incident while living a similar one."
He hoped the text would help readers see the other side of the story — Rushdie's — and understand his hopes and fears, when only those of the people offended were clear.
That might also be why Al-Tahrir Editor-in-Chief Ibrahim Eissa chose to have "The Disappeared" translated and published. Public opinion in Egypt, and several other Muslim countries, was up to its ears with allegations of blasphemy, to the extent that a Facebook post could put a person behind bars.
Zaky decided to only post his translation of Rushdie's memoir to Boring Books because he thinks of his blog as a "personal platform, independent from any other cultural journal." He wanted the translation to be published as soon as possible, in full, and without having to adjust to the editorial policies of any one publication.
He also took into consideration the length of the text, which makes it quite hard to publish in a print newspaper, unless it is divided into parts, the way Al-Tahrir did it.
As a curious translator, Zaky bought the Al-Tahrir issue that included the first part of Rushdie's translated text, and he found that the last two paragraphs were suspiciously similar to his translation, in addition to a footnote he had added to explain a certain term that was not in the original text. So he spoke out, republished the two paragraphs from his own translation on his Facebook page, and tweeted about it.
The second part of the memoir, published by Al-Tahrir a few days later, made him even more suspicious. He says that almost all of it was similar to his.
Many readers and translators, such as Ahmed Abdel Latif and Omaima Sobhy, sided with Zaky. But others, such as prominent literary translator Amr Khairy attributed the similarities between the texts to the very "translatability" of Rushdie's text.
Khairy said he initially saw the possibility of plagiarism. But he then made a little experiment, where he chose a paragraph from the original English text, for which he hadn't read the Arabic translation, and translated it himself. He found out that his own translation was very similar to both Zaki's and Al-Tahrir's.
"The sentences in Salman Rushdie's essay are small and simple. It is a direct narration with virtually no compound sentences. And it's difficult to find a word in it with more than one meaning," says Khairy, adding that "it is one of the texts in which Google translator can be used to good results, and would be very similar to the translations of Zaki, Al-Tahrir and any other translator."
He then quoted Mohamed al-Didawy, the former head of the Arabic translation desk at the United Nations, who said that when he exerts the least effort in translation, it looks like an electronic translation.
As a translator, Khairy does not like to use electronic translators. He thinks they can come in handy in technical texts and those of simple sentences and little interdependence.
"The result, however, wouldn't be perfect," he says.
Abdel Latif, a novelist and translator who sided with Zaky, and whose works include translations of writers Jose Saramago and Gabriel Garcia Marquez, thinks a translator should use all the help they can get, including electronic translators, to come up with the best translation. He personally, however, prefers both monolingual and bilingual dictionaries, since they provide all possible meanings and usages of a word or an expression.
For expressions that are not included in dictionaries, Abdel Latif consults friends who are native speakers.
Zaky says he only uses Google Translate as a bilingual dictionary application for single words, to be able to choose from a number of equivalents in the target language, but never for phrases or sentences.
Sara Hussein, a translator at Al-Tahrir, explains that Rushdie's text was divided between four translators, according to length, but says the part that Zaky specifically accuses them of copying, about 2,500 words, was not assigned to her.
Hussein cannot explain the footnote Zaki says they copied. Yet she stresses that she contacted her fellow translators to consult with them and that "they all denied it."
Although Hussein says she did not have time to read Zaky's translation of "The Disappeared," she emphasizes that she trusts her co-workers' integrity.
Egypt Independent then contacted Ahmed al-Semany, one of the other three translators who have worked on the text for an interview. But he refused to respond to the questions after receiving them via email.
Hussein says she thinks the integrity of a translator is to accurately deliver the meaning and ideas of the original text, as well as to conduct enough research to come up with the best possible translation.
Abdel Latif has a few more things to add about integrity. He says he thinks a translator should be brave and open-minded enough to honestly deliver thoughts and viewpoints that are opposite to his.
The translator of many Saramago novels particularly speaks about the challenges facing a translator, especially when it comes to translating a literary text.
"I think that my personal experience in translating Saramago had a great influence on realizing the difficulty of literary translation. His very long sentences, his excessive use of parentheses, and his manipulation of the narrator's voice all made me realize that [translation] is not pure knowledge of a language or transferring [a text] to the mother tongue, but it is creativity in another language that is equal to the original," Abdel Latif says.
On the other hand, Khairy says he thinks plagiarism is easily caught in translation, especially in the use of things like punctuation. But he adds that plagiarism is clearer when the translated text is more complex and sophisticated.
Zaky thinks a translators' syndicate would have helped resolve such disputes. He doesn't think, however, that it would completely solve the problem, since plagiarism in general is not well-addressed in Egypt — a problem that many bloggers suffer from when their texts are dealt with as open sources from which one can copy without proper citation.
For now, he has reported the incident to both the Journalists Syndicate and the police.
Correction: This article was mistakenly published in the 1 November weekly print issue under the name of M. Lynx Qualey. The author was Salma Salah.