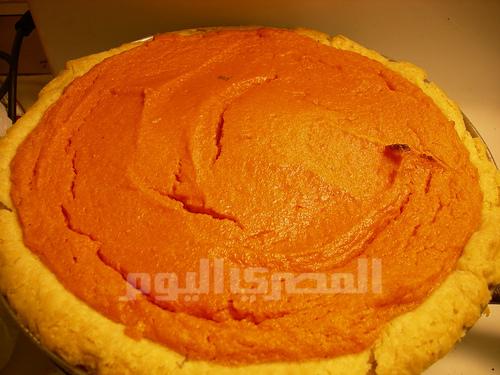 Though sweet potatoes ("batata" in Arabic) are used in a favorite dessert for Egyptians, not many people in Cairo think of preparing it at home. In fact, you don't have to be a talented dessert chef to come up with a tasty batata pie. All you need is to play around with ingredients to get the flavor you like the most. With winter extending itself so generously into March
—
warm sweet potato pie may be just the dinner dessert you're looking for this evening. Pair it with warm apple cider and vanilla ice cream.
For the pie crust you can take the dough recipe from
meat pie and oven sweet potatoes
or mix Digestive cookie crumbs with butter in a similar fashion and press it into your pie pan.
Ingredients
1/2 cup of sugar
2 sweet potatoes
1/2 teaspoon freshly grated nutmeg

1/2 teaspoon cinnamon
1/4 cup butter, melted
1 teaspoon vanilla
1/2 cup milk
1/2 teaspoon nutmeg
3 eggs
Directions:
Wash sweet potatoes and boil them for 15 minutes or until they become soft.
Put them aside until they cool and preheat the oven to 170 degrees Celsius.
Peel the skin off the potatoes and, in a medium sized bowl, cut the potato into slices.
Add butter and blend well.
Beat in milk, sugar, vanilla, eggs, cinnamon and vanilla until creamy.
Move the mixture from the bowl to your pie crust.
Bake for around one hour or until pie bubbles and crust is golden brown.