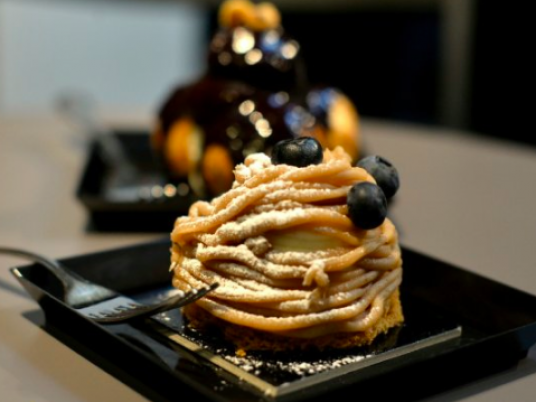 Confronted by an increasing number of diners with dietary restrictions, the chefs at some of France's finest restaurants have been forced to adapt.
It's a typical evening for Christophe Roure at his restaurant Le Neuvième Art in the central French city of Lyon. The restaurant, which was awarded two Michelin stars in 2015, is fully booked, including two tables that specified intolerances to either lactose or gluten.
In the kitchen, the chef said he was happy to have advanced warning of his clients' dietary restrictions, something that not all diners are in the habit of giving.
"All of my amuse-bouche contains gluten, but I can adapt in advance and come up with an alternative for the person who is allergic," Roure, who won the coveted title of Best Worker in France in 2007, told FRANCE 24. "On the contrary, when we find out about an allergy at the last minute, we spend a lot more time on a single client to the detriment of the others."
Like Roure, many of France's top tier chefs are increasingly faced with the challenge of meeting their clienteles' dietary needs as food allergies and intolerances become more prevalent.
"We order gluten-free bread from our baker," said Julien Roucheteau, chef at the Table du Lancasterrestaurant in Paris, which was also awarded two Michelin stars this year.
But every client is different, and not all dietary restrictions are due to allergies or intolerances. After looking at the menu at the Table du Lancaster, one vegan diner told the staff she would have only salad, apologising for any inconvenience she had caused. But Roucheteau insisted on concocting a five-course vegan meal for her on the spot.
"The client pays a certain price so you have to make the effort to adapt. It's our job to welcome people in the restaurant business," the chef said.
Limited data on food allergies
Both Roure and Roucheteau said that they had noticed "more and more allergies" in recent years. Dr. Thuong Nhân Pham-Thi, an allergist at France's prestigious Pasteur Institute, said that this was with good reason.
"It's undeniable that the number of cases is increasing, especially severe cases that can lead to anaphylactic shock or even death. It's difficult to explain it. It depends on many factors, including evolution, lifestyle, the environment…," he said.
It's difficult, also, to gauge just how many people suffer from food allergies in France. The last study conducted on the issue by the country's food and safety agency dates back to 2002, and it found that only 2.1 to 3.8 percent of the population was affected.
It's hard,too, to pinpoint exactly when the surge in cases began. For Roure, the situation became impossible to ignore about five or six years ago.
"[These days] clients at a Michelin-star restaurant won't understand if you only offer them a salad," he said.
But creating a custom-made meal can be challenging for a chef. Maxime Meilleur, who runs his three-Michelin star restaurant La Bouitte in the Alps with the help of his father, said he remembered one particular occasion when he was required to leave the kitchen to talk with a client for whom the word "allergy" was almost a euphemism.
"She had a piece of paper that was covered front-to-back with food restrictions. We found a solution together, and since then she's become a regular. She simply calls the day before and we take a couple of minutes to discuss what we can prepare for her," Meilleur said. "It's important to listen to clients. It's a question of comfort for them."
Mission impossible: Dessert
The real challenge for most restaurants is reimagining the dessert course to meet a diner's dietary restrictions. "My pastry chef would shoot himself if you took away his butter or cream," joked Roucheteau.
Meilleur agreed that the dessert course was often the hardest to recreate.
"We have to replace the dessert, sometimes with an excellent fruit salad, but it's still less intricate," he said.
It is often during the dessert course, however, when a client's dietary restrictions become apparent.
"Diabetics often realise that they forgot to notify us when we bring them the dessert, which is obviously sweet, that comes with the menu," explained chef Éric Westermann, who runs Buerehiesel, a one-star restaurant in the northeastern city of Strasbourg.
It's also the moment when a dietary restriction might be revealed as more of a preference.
"One time, a client who had indicated that she suffered from an intolerance to gluten ended up ordering a beautiful brioche made with beer. That's when we say to ourselves we've done a whole lot for nothing," Westermann said.
But France's great chefs are far from dismayed by the situation. "Don't tell too many people, but it also allows us to break our routine," laughed Roucheteau. "It's a challenge every time."
Meilleur echoed Roucheteau's comments.
"Every once in a while, we even come up with an idea that we would have never thought of otherwise. So it's definitely a positive," he said.