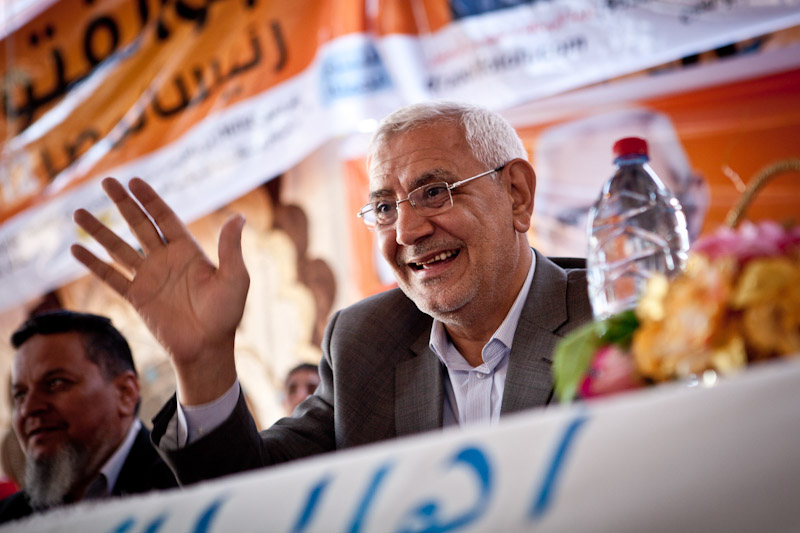 Ahmed Shafiq, the last prime minister under deposed President Hosni Mubarak, and Hamdeen Sabbahi, a lifelong dissident, would appear to have little in common as presidential candidates.
Nonetheless, Hossam, a 35-year-old engineer, has recently found himself torn between the two seemingly disparate candidates. "Shafiq is known to be a good manager. This is what we need now," he says. "Sabbahi has experience and promises stability."
Hossam, who only wanted his first name published, represents the current predicament of the Egyptian electorate. With what is expected to be the first free and fair presidential election in Egypt's modern history set to begin on 23 and 24 May, potential voters are attempting to make up their minds based on a complex and at times contradictory matrix of character, charisma and, to a lesser extent, ideology. But it is strength and leadership, above all, that voters value.
The modern republic's previous three presidents, Gamal Abdel Nasser, Anwar Sadat and Mubarak, still cast strong shadows over the public's perception of a president.
Sabbahi, a self-described Nasserist, carries some of the legacy of former President Nasser, who helped shape the perception of what a president should be: a strong and fearless leader willing to take on enemies and major challenges, while delivering big projects.
Under Nasser, Hammam al-Sayed, a taxi driver, was a new army recruit and saw how a strong personality can lift a nation. "Egypt had a lot going for it back then. Nasser had no excuse but to make Egypt a proud place. We need someone who will avoid his mistakes," said the 64-year-old cab driver and war veteran, referring to Nasser's failed economic policies and autocratic rule. Hammam holds former President Anwar Sadat in higher regard for following through on tough decisions, like taking on Israel, while he calls Mubarak "the donkey that made things as bad as can be." Hammam will vote for Sabbahi.
But Nasser's legacy even looms large over Shafiq supporters. Under Nasser, the military became a primary pillar of the Egyptian state, and it is Shafiq's relationship with the Supreme Council of Armed Forces that attracts some voters to him. To them, the army means stability and strength.
"Shafiq is strong and has the backing of the military. That means we'll have a strong presidency," said Hamed, a pick-up truck driver.
Nasser helped cement his massive popularity by undertaking major development and infrastructure projects, like the industrialization of the economy and the construction of the High Dam in Aswan. This kind of project-oriented policy is still something many voters want from a president.
For some, Shafiq is the man of big projects. Ahmad Fathy, a 32-year-old IT specialist, says he is considering giving his vote to the former minister of civil aviation because he was responsible for revamping Egypt's airports.
But more than a good relationship with the military or major investments in infrastructure, what most Egyptians want from the next president is a strong figure to serve at the head of the state. This means providing security and strong leadership.
"The common Egyptian is looking for a head-of-the-family type figure who can tell her or him everything will be okay," says Hassan Abu Taleb, a political scientist with Al-Ahram Center for Political and Strategic Studies.
Moussa, who also served under Mubarak as a minister, is viewed by many as someone who has been at the helm of the state before and therefore knows what to do. In a conversation between Hossam and other voters, the name Khaled Ali, a labor lawyer, activist and leftist candidate, was mentioned. Many recognized his good intentions and integrity, but said that the country is laden with problems that require someone who's been in the administration, like Amr Moussa, to fix them.
Similarly, many voters are looking to the next president to "restore security" and provide a sense of stability after the last 15 tumultuous months of revolution. "Restoring order is likely to matter more to voters than political openness or propensity to induce broad change," said Amr Abdelrahman, a political scientist with Essex University.
Hamed, who's voting for Shafiq, said he is pleased with the military crackdown on protests, because "it shows everyone who's ruling for real." Moussa and Abdel Moneim Abouel Fotouh, who have been leading in opinion polls in the last few weeks, have pledged to "restore security" in their first 100 days in office.
But campaign promises aren't carrying most candidates very far. Instead of detailed platforms, it's personalities that are driving many voters' choices.
Candidates are running personality-based campaigns, where who they are is highlighted more than what they believe, intend to do as president, or have done in the past. They are trying to show that they can be the strong person voters are looking for in these times.
A body language specialist told Egypt Independent that Shafiq's posters try to portray him as being "in control," while Abouel Fottouh's reinforce the "independent candidate" persona.
This is an area where the Muslim Brotherhood, the country's largest and strongest political organization today, is struggling. Their candidate, Mohamed Morsy, was relatively unknown before his name was submitted as a last minute backup candidate for Khairat al-Shater, the more charismatic and authoritative leader of the movement, who was eventually disqualified from the race.
Emerging from behind the strongman's shadow, Morsy, unlike other candidates, is heavily relying on a platform to promote his profile. Dubbed Al-Nahda, or the Renaissance Project, the Brothers are promising a full-fledged political, economic and social development program through Morsy's candidacy.
"I have major problems with how the Brotherhood have handled themselves politically lately, but I still decided to vote for Morsy because I believe as an organization they'll be able to fulfill their project, which I believe in," said Soheib Abdullah, a 26-year-old accountant and Brotherhood member.
"Morsy is a very weak candidate for president, but it is more important that the next president tries to implement [the Nahda project]," he added.
But Kamal al-Qady, an elections expert at Helwan University, reiterates that in general, platforms are not what motivate voters at this point. "So far, all platforms include many hopeful, forward-looking promises, but do not show how they will achieve them," he said. "Experience, strong personality and religiosity will matter most in these elections."
The revolution itself is yet to transpire a legacy in people's choice for president. For many, it has failed to provide a strong candidate or a specific platform that can be dubbed in the polls as "the revolutionary" choice, especially as forces that call themselves revolutionary failed to unite.
"At this point, it would be difficult to sell the concept of a charismatic revolutionary leader," Abdelrahman says.
For those who will make the closest decision to being revolutionary by choosing Ali, a man most believe stands little chance of winning, the decision is more principled than political.
In her blog post titled, "I am not into politics much, but I like principles and I shall vote for Khaled Ali," singer Samia Jaheen wrote: "In the current revolutionary mess we're going through, I decided to follow my conscience … I decided to make an individual decision and I am sorry that we're not together in this … I would be unfair to myself and to Khaled Ali if I decide to vote for someone else just because he stands better chances."
Jaheen admitted in her post that she has been criticized for her choice. But, she says, she's ignoring this and reminding critics that elections are a means, not an end. "This is not the last battle. The revolutionary road is still long."