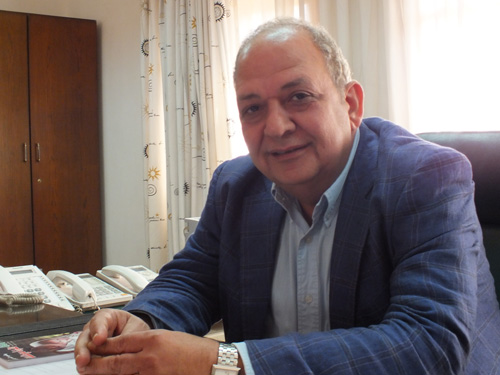 General Secretary of the Supreme Council of Culture Saeed Tawfiq is leading the third round of reform discussions to be introduced to the institution.
"We are trying to make the council achieve the mission it was originally established for," he tells Egypt Independent.
The council, established in 1980, was meant to set the state's cultural strategy through a group of pioneering artists and thinkers who would act as an advisory body to the Culture Ministry. This role was, however, never activated.
After former President Hosni Mubarak's ouster last year, different reform plans were drawn up. Some suggested separating it from the ministry and turning it into a funding authority for civil society organizations and monitoring the ministry's practices and programming. Others were simply content with introducing reforms to the existing structure.
Former Culture Minister Emad Abu Ghazi, who resigned after the Mohamed Mahmoud Street clashes in November, had promised to look into the different suggestions, and held several workshops in partnership with the Independent Culture Coalition. Shaker Abdel Hamid, who succeeded Abu Ghazi in office, decided to go with introducing reforms to the structure rather than rethinking it completely. And Tawfiq is working within this vision.
He thinks that separating the council's budget from the ministry to avoid bureaucracy and making its decisions binding are essential for it to become effective. The council should also be entitled to set regulations in place for developing policies and coordinate work between the ministry's sectors, adds Tawfiq.
But all these reforms do not translate into the council's independence from the Culture Ministry.
"The minister will still chair the council, and heads of different sectors would remain members. So they will participate in planning their own sectors as well as others," he explains.
When asked about other reform plans that called for separating the council from the Culture Ministry and turning it into a funding body as a step to empower cultural civil society organizations, Tawfiq responds, "I think that the state should support and sponsor civil society, but it should not stop producing culture."
"The state should not take its hand off cultural production until giant publishing houses, cinemas and cultural organizations become strong enough to fulfill society's needs away from the ministry, and before a legal structure that protects copyrights for example is created," he says. "Only then can it withdraw gradually."
He cites how the "best films in Egyptian cinema" were produced by the state.
"It acts as a bulwark against vulgar works by private producers," he says.
Another controversial issue cultural workers have been demanding to address is the way the 61 council members are chosen. Under the current structure, 29 members are appointed based on their official state positions and 32 are selected for their lifetime achievement by the board which includes acclaimed intellectuals, in addition to the culture minister and the council's secretary general.
Members have a serious effect on the council's decisions, as many are made through voting like the case of the state awards. Many of the 29 members were accused of voting in favor of decisions that Mubarak-era Culture Minister Farouk Hosni wanted to pass through.
Although some are suggesting electing up to 70 percent of the council members for their lifetime achievements, Tawfiq disapproves.
"I am against elections in scientific and cultural institutions," he says. "Merit is the only criterion I recognize. Elections will lead to populist choices."
Reviving the council's board, he argues, would create a selective tool to nominate members and elect from them, adding that "the Supreme Council of Culture's membership should not be available to everyone."
This means that entire groups might be excluded like young practitioners and women. But Tawfiq argues that setting criteria in favor of particular groups is in itself discrimination.
He prefers to limit membership terms to two years and select 70 percent of members based on lifetime achievement.
Asked how to decentralize decision-making from which many artists and writers based out of Cairo have suffered, he responds that they could be represented in the council's internal committees ­— also selected by the board — if they do not meet the board's membership criteria. Specific criteria would be added to the internal committees' selections to ensure the inclusion of various age groups and backgrounds, as well as geographical diversity, he explains.
Tawfiq thinks the internal committees' elections held last year have brought in many repeated faces and unqualified figures who "won through their opportunistic networks."
"We are also keen on holding the intellectuals' conference. We will stay close to people's demands [in different governorates]. But in the end, somebody has to set the plans," he adds.
Another development in the reform plan is the addition of two committees focusing on youth and media to the existing 26 that specialize in short stories, poetry, novels, visual arts, history and other genres.
Some work vigorously, while others have been generally idle and/or unrelated to the council's work, such as the Human Rights and Citizenship Committee, created after the Two Saints Church bombing.
Tawfiq does not see an overlap with other institutions, as these committees' work is meant to research the cultural aspects of topics like media and citizenship.
"What makes people feel that some of these committees aren't useful is that they do not do their jobs," he emphasizes.
The suggested reform plan will be discussed in the next meeting at the Supreme Council of Culture in November, before being sent to Morsy and the Cabinet for approval.