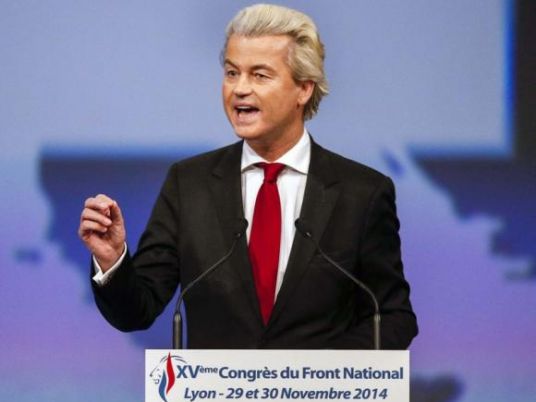 A few minutes before Texan police shot dead Sunday two gunmen who attacked a "Muhammad Art Exhibit and Cartoon Contest," far-right Dutch politician Geert Wilders gave a speech at the event.
"It is no coincidence that we are in Garland, Texas, tonight. It is here that, three months ago, shortly after the Charlie Hebdo massacre, Islamic activists convened to demand that free speech be curtailed," the 51-year-old firebrand told the audience in Garland, Texas, at an event organized by the American Freedom for Defense Initiative, listed as an extremist group by American civil rights organization the Southern Poverty Law Center.
"They want to prohibit cartoons, books and films which they find insulting. Our answer is clear: Don't mess with Texas! Don't mess with the free West! Don't mess with our freedom of speech!"
In his speech, the lawmaker invited cartoonists to exhibit their work in the Dutch parliament, where his party is the fourth largest, at a future date.
Wilders, who has been declared a target by al-Qaeda, is famous in his home country and around the world for his attacks on Islam and Muslims in the Netherlands.
He has called the Koran a "fascist book" and has publicly vowed to reduce the number of Muslim migrants in the country.
Although Wilders' Party for Freedom and Democracy lost two European Parliament seats in the most recent election in May 2014, taking around 12 percent of the vote, his vehemence towards Muslims has not diminished.
Wilders has boosted his career by attacking Muslim migration to the Netherlands, where Turks constitute about 2.5 percent of the population and Moroccans account for a further 2.2 percent.
Elected to Utrecht city council in 1997 as a representative for the right-wing Liberal Party, Wilders used his position to attack the city's Muslim community.
The following year he was elected to the national parliament and in 2003 called for a "liberal jihad." His stance proved too extreme for the Liberals and in 2006 he founded his own group.
In 2008, Wilders made and attempted to distribute an anti-Muslim film attacking Islam. Entitled 'Fitna,' it displayed images of the 9/11 attacks beside verses from the Koran. The film caused outrage throughout the Netherlands and the Muslim world.
Wilders was prosecuted in 2009 for inciting hatred but was acquitted of all charges two years later. He currently faces trial over a speech he gave in The Hague last year in which he asked the crowd: "Do you want, in this city and in the Netherlands, more or fewer Moroccans?" When the crowd chanted "fewer, fewer" Wilders retorted, smiling: "Then we'll fix it."
If convicted, he faces up to 16 months in prison or a fine of up to 7,600 euros ($8,500).
Despite his continued vehemence, Wilders' role in Dutch politics is widely viewed as diminishing.
"He is a single-issue politician," Rudy Andeweg, a political scientist at Leiden University, said in an interview with Dutch newspaper De Volkskrant last year. "His dream is his dilemma."
Before his trip to Texas, two Muslim U.S. congressmen wrote to Secretary of State John Kerry and Secretary of Homeland Security Jeh Johnson asking that he be denied a visa, as he was when he planned a visit to the U.K. in 2009.
"I find it disturbing, but mostly sad, because, you know, the people of the Netherlands are a good people… with a great history of tolerance," Rep. Keith Ellison said Friday. "And it's unfortunate that someone such as this would come over here and sort of represent himself as a member of that society."