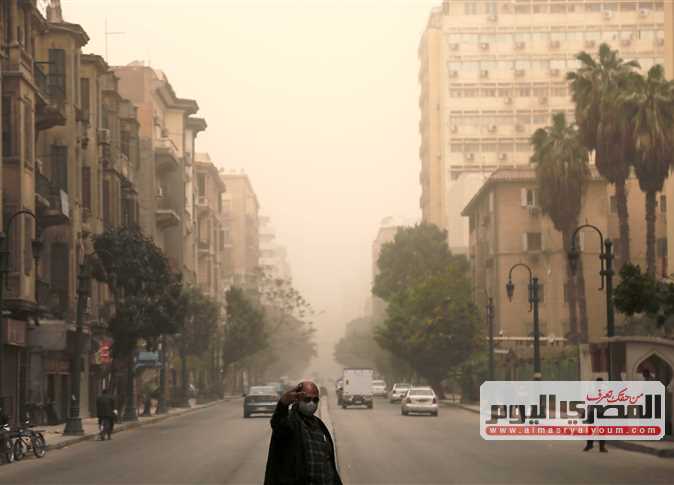 The Egyptian Meteorological Authority warned that there will be dusty winds over large areas in Egypt on Tuesday and Wednesday. Rainfall expected in the cities of Halayeb and Shalateen in the far south of Egypt. Meteorologists expect rain to extend to wider areas during weather forecasts for the coming days.
Daytime temperatures will rise relatively on Tuesday and Wednesday and will  decrease until Sunday.
Frost will form in areas of northern Upper Egypt.
Doctors advise patients with allergies, chest and sinuses diseases to put a mask when leaving their houses, to reduce the exposure of injury to the respiratory system due to the dusty air, which may cause bronchial asthma.
Doctors also advise carrying bronchial asthma medications in case you have to go out of the house, according to the doses prescribed by the doctor.
Doctors also recommend drinking plenty of water throughout the day to keep the throat moist to reduce asthma attacks and improve the flow of oxygen to the lungs.
Doors and windows of the house should be closed well during dust-laden wind activity, to reduce the entry of dust into the house, as well as car windows during storm periods.
Temperatures will rise on Tuesday, despite the activity of the winds. And the weather forecast for tomorrow, Wednesday, indicating a slight rise, to decrease gradually, starting from Thursday.
Tuesday's weather forecast remains cold during day time on the western coasts, Cairo, northern Upper Egypt and Alexandria. The weather remains warm in the southern governorates of Egypt, and mild on the eastern coasts. The weather during the nightly hours will be very cold in most parts. Frost cover expected for northern Upper Egypt and central Sinai.
The maximum temperatures during the weather, on Tuesday, will rise over that prevailing during the weather on Monday.
It is expected that the temperature in Cairo and Alexandria during the daytime will reach 18C, two degrees higher than Monday.
In Damietta, Shebin el-Koum and Zagazig the temperature will be 18C. In Tanta 18C, Port Said 19C, Siwa 16C, and Matrouh 17C. The temperature will be 18C in al-Arish. In Sharm el-Sheikh 23C, and in Hurghada 22C.
The temperatures in Beni Seif, Fayoum, and Minya are 18C. It is expected that the temperature in Qena will be 20C, Luxor at 22C, and Aswan 23C.
Wednesday temperatures 12-1-2022
Wind activity is expected during Wednesday's weather over Greater Cairo, the northern coasts, and Alexandria. And the expected rain will be on Wednesday in the cities of Shalateen and Halayeb.
It is expected that the temperature in Cairo will be 19C, in Alexandria and the northern coasts 18C, and in South Sinai 24C. In northern Upper Egypt it is 20C, and in southern Upper Egypt it is 25C.
Edited translation from Al-Masry Al-Youm