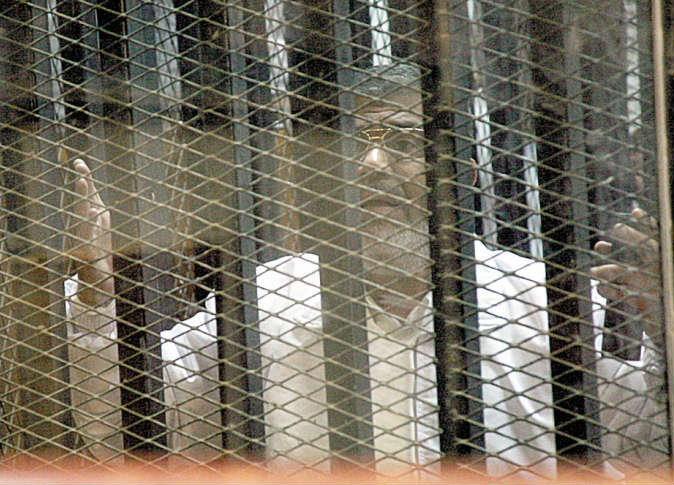 During the trial of toppled President Mohamed Morsy, along with other 130 suspects over prison break charges, an officer who was witness to the attack on the prison testified that the assailants appeared to be non-Egyptian Bedouin.
Major General Atef al-Sherif, former deputy interior minister for prison sector, said during his testimony that "elements from Hamas, who were speaking in Bedouin dialect, broke into prisons during 25 January revolution. They were speaking a non-Egyptian Bedouin dialect and wearing Bedouin outfits."
Cartridge casings and boxes of ammunition that are not used by Egyptian police or military were found, Sherif added. The prisons that were broken into had political elements who were able to pass through the tunnels with assistance of Sinai Bedouins.
Borg al-Marg prison, which had elements from Hezbollah including Sami Shehab and Sami Nofal was attacked, he added indicating to celebrations by Qassam Brigades and Hezbollah for smuggling them as well as others from prisons. The celebrations were aired on TV.
"The suspects came to Wadi al-Natrun prison on 29 January 2011 upon arrest warrant by the state security. They were kept at prison and were smuggled early in dawn. No specific suspect was identified," he said.
The first attacked prison was Abu Zaabal, which includes al-Qaeda elements. Soldiers on the watch towers were killed. The prison's walls were demolished through loaders. Doors of the cells were smashed. Prisons were opened at 5pm. Criminals of Sinai Bedouins and Ramzy Mowafy of al-Qaeda were there.
Sherif added that the phone call made by Morsy that was aired on Al Jazeera satellite TV channel was through Thuraya satellite phone, since communications were cut at that time. Elements which broke into the prisons had light and heavy weapons.
Morsy took his rare opportunity to speak in public and attacked again the legitimacy of the interim government, saying, "the third party will probably fail and coup will come to an end."
"The coup authority reversed against judiciary itself. Judiciary should know this," he added during his trial at Cairo Criminal Court on Wednesday.
Muslim Brotherhood figure Essam al-Erian had earlier requested having a surgery for suffering slipped disc. He also demanded not to attend the sessions.
The court earlier postponed the sessions to hear the testimonies of witnesses and form a committee to review the evidence of CDs to check if any materials were added or deleted. It also ordered the forming of a medical committee to examine Erian and identify the treatment he needs. Prosecution was instructed to visit prison and inspect the way officers deal with the suspects and listen to their complaints.
The 26 suspects are in detention pending investigations while the rest are being tried in absentia.
Among the detained suspects are Morsy, Muslim Brotherhood Supreme Guide Mohamed Badie, his deputy Rashad al-Bayoumi and members of the guidance bureau including Mohamed Saad al-Katatny, Erian, Mohamed al-Beltagy and Mohie Hamed.
Fugitive suspects include Islamic Preacher Youssef al-Qaradawi, former Information Minister Salah abdel Maqsoud, Deputy Supreme Guide Mahmoud Ezzat, al-Qaeda figure Ramzy Mowafy, Qassam Brigades figure Ayman Nofal, Lebanese Hezbollah figures Mohamed Youssef Mansour and Ihab al-Sayyed Morsy.
Prosecutors accused Morsy of spying for Hamas and providing its members with information concerning the Egyptian security situation during the 25 January revolution. They also accused him of helping detained Hamas members in Egyptian prisons escape during the January 2011 uprising. Investigators accused the international organization of the Muslim Brotherhood of committing violence in Egypt to create chaos and planning a terrorist scheme to form an alliance between the Muslim Brotherhood in Egypt and other foreign extremist organizations including the military wing of the Hamas, Lebanon's Hezbollah, which has links to Iran's Revolutionary Guards, and other local and foreign organizations
The group also allegedly smuggled weapons and militants to Gaza via tunnels with the help of Hamas for the purpose of military training. The suspects also allegedly gathered with other members of extremist groups in Sinai for training on how to spread propaganda to achieve the goals of the Muslim Brotherhood. According to investigations, the international organization of the Muslim Brotherhood funded criminal schemes in its Egypt branch, which was started in 2005 and resumed during the 2011 revolution, to assault security forces and arming citizens. Prosecution also accused suspects of preparing to gain control of security establishments in Sinai and declare it an Islamic state in the case that Morsy did not win the presidential elections, according to the investigations.
Haddad and other presidential team members are accused of sharing confidential reports meant for review by the president to the Muslim Brotherhood and other foreign authorities as an award for carrying out terrorist operations and assisting the Brotherhood in Egypt until it assumed power. Some of the reports were sent by the presidency's email indicating that Morsy was informed, investigations said. Investigations also stated that the foreign groups carried out attacks against police and armed forces in Sinai to intimidate Egyptians and destabilize the country in order to reinstate Morsy.
Edited translation from Al-Masry Al-Youm