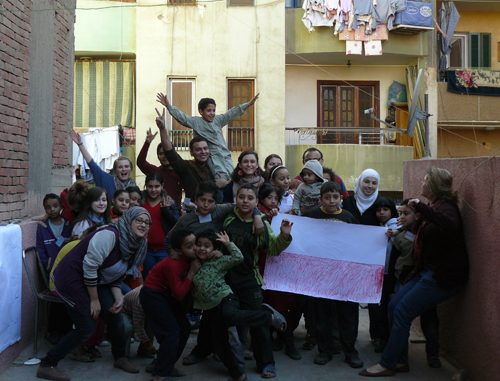 After a sip of a traditional drink from the Ivory Coast, a young Egyptian child shivers. "This is very, very different," she says.
About 20 to 30 excited children from a working-class Cairo neighborhood are taking part in Safarni, a free interactive cultural experience for children, which takes them on virtual trips to new countries around the world.
The most important Safarni rule is to "respect difference," so when tempted to use words like "weird" or "bad," the children must replace them with "different" or "new for me."
It worked well on Ivory Coast day, as it does every time. Safarni, which takes place every second Friday, creates a simulated travel experience for children who would normally get little contact with "the other," and little to no travel experience.
"If children can start seeing difference as something beautiful and rich, which they feel comfortable around, and not as something scary and suspicious, we're on our way towards a more tolerant world," says Raphaelle Ayach, a French-American documentay filmmaker and Safarni's founder.
Ayach, who has a background in facilitating film courses and dialogue sessions, says that it was in Spain and France, countries where she lived previously, that she first noticed how prevalent racism was, though it was often under the radar. When she started learning Arabic and developing strong relationships with Arab friends, she saw how pervasive it was.
She says that, too often, people are afraid of what is different. "I'm trying to help these children avoid initial reactions like, 'I don't know it so it's scary.' I want them to think instead: 'I don't know that but I want to find more about it.'"
Safarni means "take me traveling" in Arabic. So far, the organization has brought about a dozen countries to these children. The idea, Ayach says, is not so much to make them learn about foreign countries, although that is inevitably part of the process, but to get them curious and excited about differences and different cultures, ways of life and social habits.
Ayach wanted to start such a project as soon as she arrived in Egypt but never had the opportunity. When she heard about the Artellewa art space in Ard al-Lewa, a densely populated informal area located between two large squatter settlements, Imbaba and Bulaq al-Dakrur, she was impressed with their activities and wanted to participate. Artellewa facilitates artists' projects, offering workshops and art exhibitions, and hosting artists-in-residence.
Artellewa agreed to lend Ayach a couple of rooms on Fridays for Safarni. She soon gathered a few friends and people who were interested in intercultural dialogue, including Egyptians and non-Eygptians.
As Ayach hoped to bring travel to children from neighborhoods with little to no opportunity to have contact with "the other," she was happy to start in Ard al-Lewa.
To make it happen, the group needs many volunteers: adults who act as facilitators, leading activities and translating them into Arabic for the children, helpers and foreigners. Not the nameless, non-Arab "foreigners," but a few people from a specific country who are encouraged to speak to the children and share their dances, music, cartoons, games, food and drink.
"The children need to see and shake hands with actual people. It is part of the emotional connection. Once we realize everyone has a story, it becomes much harder to demonize," Ayach says.
On Poland day, children felt excited about learning the "Polonaise" dance. The Polish women who hosted for the day had the children watch a clip from a movie to learn the dance steps.
Braided, blonde women in ruffled dresses danced in a tree-lined alley. The children were slightly wary at first and a few boys wanted to leave — children are always free to leave or go back to the street. But when the adults started showing them how the dance worked, the children held hands and started bending down and turning right and left, with huge smiles on their faces.
One of the girls waved her headscarf and added a Salome touch to the Polish dance. For the afternoon, she was Ania, according to the Polish name tag she had pinned on her dress for the afternoon. Name tags are optional — they do not prevent the children from being called by their real names if they wish.
A common criticism, Ayach says, is that children don't always remember what they learned about each country. She says, however, the aim is not to make the children learn things by heart.
"The aim is not even to make them have fun, although they do." says Ayach. "The aim is to get them to experience difference and connect. I get these criticisms a lot — that the children don't retain enough information. But that's not our primary aim."
Ayach says she discovered that one "feels most accepting and supportive of another culture or way of life when they have experienced some sort of emotional connection to it."
When speaking of intercultural understanding, Ayach says, it's vital to understand the power of these emotional connections.
"This happens when you open yourself to experience the 'other' by connecting them with your heart — friendship, love — and senses — listening, tasting, dancing, swaying — much like one does when traveling," Ayach explains. "These experiences are actually felt and that is the key to their power."
The Safarni team also decided to address the criticism about children not retaining information by having one child keep a notebook of the information they received.
The children were surprised at the ease with which they could say shawl, or the first name Magda — as it is the same in Arabic and Polish — but they had more fun trying to repeat words that were hard for them to pronounce.
"What's the capital of Poland?" one of the hosts asked.
"Berlin! Krakow! Moscow! Warsaw!" the children shouted.
"Yes, Warsaw!" the host replied.
These unusual names could take some time to settle in the minds of the children, of whom the oldest are about 13. But they did not let go of "one, two, three" in Polish and repeated the numbers enthusiastically, both while dancing and playing a game in which they had to say, "One, two, three, the witch is watching."
Safarni has also visited Ezbet al-Hagana to reach children from slum areas and Ayach is keen to spread the Safarni concept to many more places. The group has now started a fundraising page on the crowd-funding platform Indiegogo to raise money to make "passports," stamps and flags, buy food supplies and even organize potential carnivals to introduce as many children as possible to new worlds, far removed from their everyday lives.
This piece was originally published in Egypt Independent's weekly print edition.
This piece was originally published in Egypt Independent's weekly print edition.
– See more at: https://www.egyptindependent.com/news/syrians-find-refuge-food-bringing-cuisine-egypt#sthash.rzUEw737.dpuf