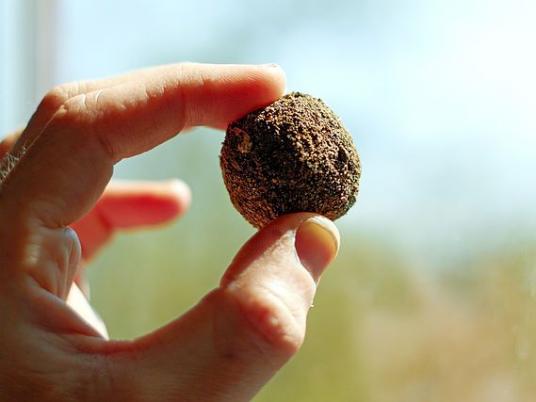 Egypt has been confronted this year with numerous calamities that ranged from food security issues and contaminated tap water to rampant urban encroachment. While most of these issues have not yet been resolved, the conversation has been broadened and new concepts have started to emerge, which will hopefully have an impact in the year to come. Here is an overview of 2012's main contradictions and hopes for a greener tomorrow.
Food security vs food sovereignty
Economic policy in Egypt is entrenched in the goal of food security, defined by the World Health Organization as ensuring that "all people at all times have access to sufficient, safe, nutritious food to maintain a healthy and active life."
The problem with the notion of food security, according to Reem Saad, a professor of social anthropology at the American University in Cairo, is that it relies simply on there being enough to feed people. Food sovereignty, in contrast to security, "emphasizes not only the quantity of food but the quality, and the work of the peasants who produce it."
Food sovereignty is a concept coined by members of the international coalition "Via Campesina," which groups over 148 organizations that advocate for family farm-based sustainable agriculture. At the center of the food sovereignty framework is the right of people to create food and agricultural systems according to their needs, rather than the needs of the global market.
Two recent campaigns point to Egyptians' concern for realizing the goal of food sovereignty and not just food security.
The 'Bozoor Baladi' (Seeds from my country) campaign was launched in October by organizations such as Nawaya, Greenpeace, 350.org and Nabta to advocate for mainstreaming the use of local, organic seeds instead of the hybrid or genetically modified seeds imported from Europe and the United States. Not only are these imported seeds expensive, but they necessitate huge amounts of fertilizers and pesticides to adapt to a new type of soil, climate and pests. These imported seeds also compete with native plants, thus contributing to their gradual disappearance.
Spanish artist Asuncion Molinos developed an art project revolving around the concept of food sovereignty with the opening of a temporary restaurant in the neighborhood of Ard al-Lewa. 'Al Matam el Mish-Masry' (the non-Egyptian restaurant) served food made of the highest quality fruits and vegetables grown in Egypt, which are mostly exported and thus not accessible to 90 percent of the population. Conceived as more than a restaurant, the idea was to turn it into a space for local residents and visiting art aficionados to discuss issues related to food.
Molinos believes that only a grassroots movement, in which farmers, researchers and university professors are all involved, can effectively defend the right to decent food and farmers' rights to a better standard of living. Molinos says that Egypt should grow healthy, nutritious food for its population, and sell the excess produce on the international market.
Bottled water vs tap water
This past summer, two water-related crises hit Egypt hard during Ramadan: on the one hand, seven brands of local bottled water were taken off the market overnight after tests revealed the presence of a parasite. Alpha, Hadir, Seway, Aqua Delta, Tiba Aqua Mina and Aqua Soteir's production lines were closed down, considerably reducing the availability of bottled water for consumers at a time of high demand.
Though Nestle group is Egypt's largest bottled water company, controlling about 50 percent of the market through its two brands, Nestle Pure and Baraka, it was unable to meet the spike in demand.
Ahmed Shaaban, vice president of the National Research Center and a water specialist, explains that the cause of the presence of the parasite in well water, and then in bottled water, was pollution from nearby sources of wastewater discharges from septic tanks and agricultural waste water.
The other crisis hit the residents of Sansaft, a village in Monufiya Governorate, which suffered an epidemic of severely contaminated local water supplies that afflicted thousands.
"Monufiya has the worse waste management infrastructure in all of Egypt," Mohamed Fathy, a plant pathologist at the University of Monufiya, states matter-of-factly. He explains that almost 90 percent of the governorate's villages do not have access to proper infrastructure.
Despite the contamination of tap water in Monufiya Governorate, Shaaban says people living in major cities can consume tap water, where the infrastructure is in much better shape than in more rural areas.
"But no one in the Delta should drink tap water," he says. "The derelict state of the infrastructure makes it too risky."
Urban encroachment vs agricultural land
Egypt's viable agricultural land is limited to the fertile Delta and the narrow banks of the Nile. This area, only 4 percent of Egypt's territory, is also where over 90 percent of the population resides, posing a constant conflict between housing and agriculture.
More than 400 cases of illegal building on land designated for agricultural use took place since the revolution, damaging 16,000 acres of valuable agricultural land, according to a report produced by the Agriculture Ministry. Other figures estimate that urbanization damages between 16,000 and 20,000 acres of viable agricultural land every year. It is estimated that up to 30 percent of the country's good soil is now buried under urban development. Several of Cairo's most highly urbanized neighborhoods were farmlands just two decades ago.
The encroachment on agricultural land is tied to Egypt's challenge of growing enough food to sustain its population. One of the largest consumers of bread internationally, Egypt imports 40 percent of the wheat it consumes from Russia, the US and Europe.
As the Delta and Nile valley regions continue to urbanize, cutting into usable farmland, some believe that finding ways to make desert farming sustainable is becoming increasingly important. One proposal involves giving farmers plots of land between 2.5 and 5 feddans — much larger than the average plot in the Delta, as desert land is far less productive than rich, Nile-side soil.
Richard Tutwiler, director of the Desert Development Center at the American University in Cairo (AUC), says that farming on desert land poses an exciting new frontier, where people are finding innovative ways to to better incomes.
Not everyone is convinced by the future of desert agriculture, however. For Habib Ayeb, a professor at AUC's Social Research Center, this practice is a costly and temporary solution.
"Even with enough water, soil and seeds, small plots are rarely profitable, and most families rely on a second source of income." For him, desert farming is profitable only for the already wealthy, who can afford to set up large farms exporting luxury crops to Europe.
This piece was originally published in Egypt Independent's weekly print edition.