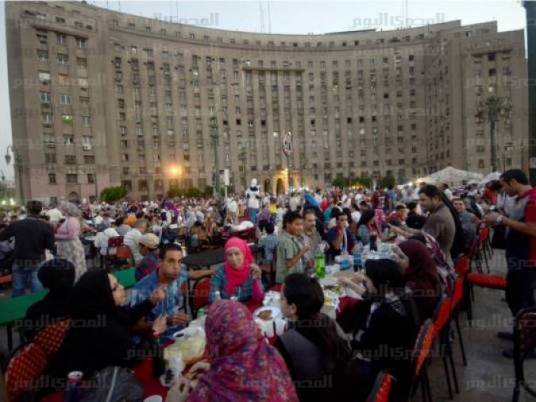 Young Christian friends, not exceeding 22 years old, living in the Ghamra area in al-Zaher district, have launched an initiative to serve food to others without charge on different occasions, aiming to spread joy among people. During Ramadan, they will contribute with a new social activity titled "We will share al-Rahman food table with you in Ramadan."
Founder of the "Happy crew" group, Andrew Sami, student in the faculty of commerce, contributed together another nine Copts in charity work for children to bring smiles on their faces through the presentation of funny performances and children's favorite cartoon characters such as al-Mohrg (the clown), Am Bondq (Uncle bondq) and Batot. They visited children in orphans' homes, 57357 Hospital for cancer treatment, Abu al-Rish Japanese hospital and nursing homes.
"As the month of joy, [Ramadan], is about to start and we are one people, we decided to go down and help in al-Rahman food tables. 'Call us and we will come to you #Ramadan_Karem,'"Sami posted on his Facebook page.
Several young men reacted to Sami's post and asked for his help in preparation of food tables in Ramadan.
Sami said, "We like offering things which make people delighted in every occasion. This year, we decided to help our Muslim brothers in preparations of al-Rahman food tables in Cairo…. We will do this idea for the first time since we founded the group two years ago."
Sami added, "We will wear masks of Bogy and Tamtam in the first week of Ramadan. We will walk in the streets and distribute lanterns and gifts to children. We will visit people in their homes and give them gifts… we will go down and distribute dates and licorice juice to people in the streets of the Ramses area before the sunset prayers."
Edited translation from Al-Masry Al-Youm