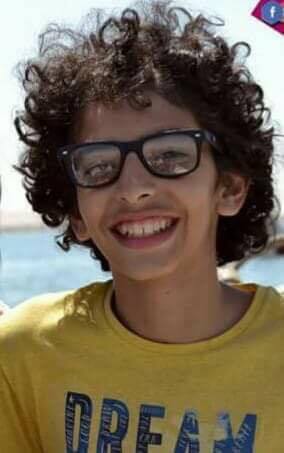 13-year-old Youssef Sameh el-Araby has been in a coma since Thursday, after he was struck down by a silent gunshot in Cairo's 6th of October city.
Youssef was spending the night with his school friends in el-Ashgar neighborhood. As they were standing by at one of the local restaurants in the area to order some food, Youssef collapsed, from what was soon discovered to be a bullet wound to the head, Sameh el-Araby, Youssef's father told Al-Masry Al-Youm on Saturday.
"The bullet settled in the brain stem," Sameh said, explaining that the doctors say the bullet cannot be surgically removed and that Youssef's condition is critical and close to a "clinical death".
Youssef is currently in a critical condition in the intensive care unit at the October University Hospital.
Political activist Marwa Kenawy, Youssef's mother, received a call later on Thursday from her son's friends informing her that Youssef had fainted and hit his head so they had taken him to the hospital.
However, after he was examined at the hospital, it was clear that a bullet was lodged in Youssef's head.
Kenawy wrote on her Facebook page on Saturday: "I am losing my son Youssef; I will not give up on God's mercy and I will not leave you easily, Youssef."
She asked for prayers at churches and mosques and asked God for a miracle to save her 13-year-old son.
"Bystanders in the area thought that Youssef had collapsed due to being malnourished, assuming the head wound was caused when he hit the ground, as no one heard the actual gunshot," Youssef's father explained.
The incident sparked distress and people expressed their solidarity with the family over social media, with many people calling for a thorough investigation.
Investigations are underway and the police have questioned Youssef's family and friends at the hospital, as well as the doctor following up on Youssef's case.
The Interior Ministry has not yet released an official statement on the incident.