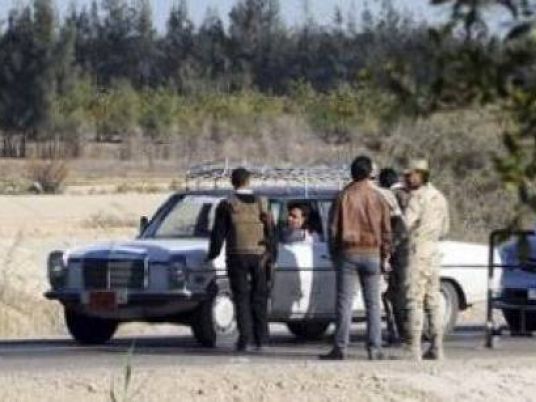 The Egyptian military has announced several recent successes in its anti-insurgency operations in North Sinai, with a total of 22 terrorists killed during the third phase of the "Martyr's Right" anti-terrorist operation.
In a statement on Thursday, Military Spokesperson Mohamed Samir said that the third phase of the operation had resulted in the killing of a large number of Islamist terrorists and the destruction of several hideouts from which they operate.
Samir said that 28 hideouts had been destroyed, along with nine houses belonging to terrorists, while four explosive devices targetting security forces had been defused.
"Armed forces and civil police elements tightened measures in the areas of al-Shallaq, Qabr Emeir, Khat al-Gouza and Abu Zamat to ensure there are no terrorists there," said the statement, referring to the most recent developments.
"Five extremists were arrested. Some books that include extremist ideas were seized, in addition to two machine guns and quantities of ammunition. Several security checkpoints were set up to enforce security."
The recent gains were the result of combined efforts by the army, civilian police, the air force and maritime forces, said Samir.
Egyptian military and security forces have been battling a mounting insurgency in Sinai since the removal of former President Mohamed Morsi in June 2013. Militants linked to the Islamic State terrorist group frequently conduct ambushes, mortar attacks and roadside bomb attacks in the North Sinai governorate.
In one of the largest single attacks, at least 15 police personnel were killed in an assault on a checkpoint in Arish, North Sinai. According to news reports, the attack was initiated by a car bomb at the checkpoint, followed by mortar fire.
Militants from the Sinai Province terrorist group, which is affiliated to Islamic State, later claimed responsibility.
In a typical attack, militants will detonate explosives and then fire on ambulance crews when they arrive to treat the casualties.
Edited translation from Al-Masry Al-Youm