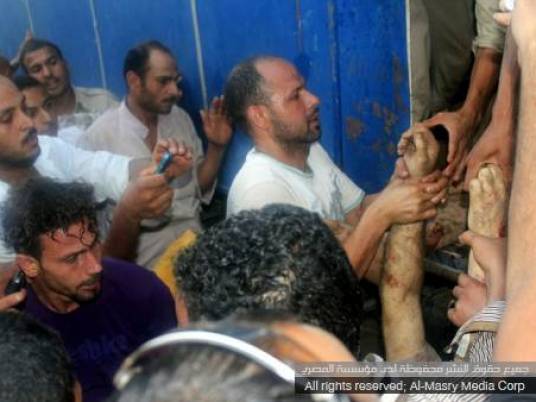 Egypt's Interior Ministry said Tuesday that police arrested 8 suspects in connection with the killing of 4 Shia on Sunday, murders that provoked strident condemnation from both inside the country and beyond.
The 4 worshippers had gathered on Sunday at the home of a prominent Shia, Hassan Shehata, in a Giza governorate village to mark a religious festival when the house was attacked by a hostile crowd, accusing them of heresy and beating them to death.
Egypt's Islamist president, Mohamed Morsy, condemned the "heinous crime" but stands accused by Egyptian Shia leaders and liberal opposition groups of inciting sectarianism over the war in Syria as a means of appeasing his own hardline Sunni allies.
A joint operation involving the Interior Ministry's Public Security Department and Giza's Security Directorate ended with 8 suspects apprehended, assistant Interior Minister for media affairs Abdel Fattah Othman told Al-Masry Al-Youm Tuesday.
Othman added that security authorities would continue to examine video clips circulating in the wake of the "regrettable" attack in Giza's Zawyet Abu Musallam village, in the township of Abul Nomros.
Video evidence could lead authorities to other perpetrators, Othman said.
On Tuesday, Iranian authorities strongly condemned the incident, accusing the perpetrators of "contradicting Islam."
"The Islamic Republic of Iran denounces any act of extremism and violence which contradicts Islam and the tenets of Islam," read a foreign ministry statement published by the website of English-language news channel, Press TV.
"Iran is certain that the sensible and revolutionary Egyptian nation, through its prudent leaders…will also exercise vigilance vis-à-vis plots to foment discord among various schools of Islam," it added.
Around 90 percent of Iranians belong to the Shia denomination, whereas in Egypt the figure is estimated at no more than 2 percent.
Egypt's minority Shia community often face various forms of discrimination from the overwhelming Sunni population.
Moves by the Egyptian government, under President Mohamed Morsy's tenure, to warm ties with Iran have been met with opposition from Salafi and conservative Sunni groups, who consider Shia Islam a heretical sect.
Edited translation Al-Masry Al-Youm