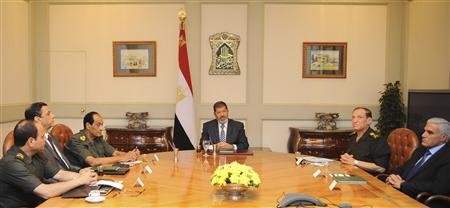 Conflicting accounts have emerged as to whether President Mohamed Morsy consulted with Egypt's military leaders before ordering their retirement from the Supreme Council of the Armed Forces.
On Sunday, President Morsy's spokesperson announced that Field Marshal Hussein Tantawi and Chief of Staff Sami Anan would retire and become advisers to the president. He also revealed that that supplement to the Constitutional Declaration would be abolished and replaced with Article 25 from the March 2011 Constitutional Declaration, a move that would transfer powers from the SCAF to an elected civilian president.
"The decision was based on consultation with the field marshal and the rest of the military council," General Mohamed al-Assar told Reuters. In a reshuffle of the top brass announced on Sunday, Assar was appointed deputy defense minister.
However, Amr el-Shobaki, a researcher at Al-Ahram Center for Political and Strategic Studies, said Sunday that Morsy agreed on the decrees with members of the SCAF other than Tantawi and Anan, including newly appointed defense minister and head of the armed forces, Abdel Fattah al-Sisi.
"It was the right decision to make," Shobaki told Al-Masry Al-Youm. "Tantawi is 80 years old and has been [defense] minister for 23 years."
But Shobaki openly wondered whether the decision was intended to restructure the army or help the Brotherhood dominate state institutions.
He also ruled out the possibility that the United States or Qatar knew of the decision beforehand. "The United States only cares about stability in the region," he said.
Morsy also appointed Mahmoud Mekky as vice president and Sidqy Sobhy as military chief of staff.
He granted Tantawi the Nile Medal, Egypt's highest state honor, and Anan the State Medal, and appointed them as his advisers.
Edited translation from Al-Masry Al-Youm