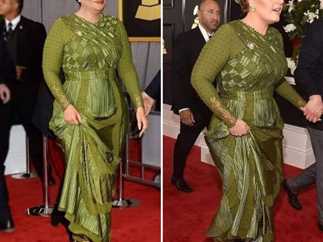 Social media users, especially the Egyptian pages, circulated a picture whose publishers said it was of the British singer Adele wearing the dress of late national Egyptian icon and singer Umm Kulthum.
According to Al Arabiya news website, the circulating post, which includes two pictures, one of the British singer and the other of Umm Kulthum, wearing the same green dress, garnered hundreds of reactions and comments on both Facebook and Twitter.
But investigating the two photos revealed that the image of the late Egyptian singer was fabricated, as the search through search engines revealed the original copy of the Umm Kulthum photo which was published on the Getty Images website, according to AFP.
Adele appeared in a green dress during the Grammy Awards ceremony in 2017, and two years after Adele's pictures were published, an Egyptian designer re-published two pictures of both singers wearing the same dress on the Behance website before and after the edit, after Adele's face was replaced by Umm Kulthum's.
But it seems that some users deliberately used the two images in a misleading context, to show that Adele wore the same dress that Umm Kulthum wore before, according to Al Arabiya.