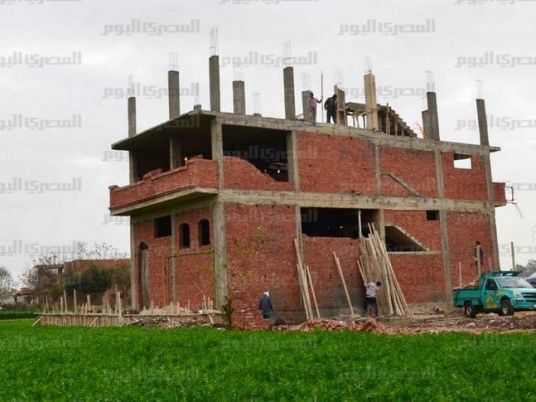 The cabinet is preparing a new bill for reconciliation on illegal construction to address some of the shortcomings in the current law, Housing Minister Assem al-Gazzar announced.

Only one case is currently allowed to obtain building permits, which is that which meets building requirements in terms of codes and parking spaces, he said.
Gazzar added, during the second parliamentary forum of the Future Homeland Party in Hurghada, that whoever obtained a building permit that met all the requirements will be allowed to construct buildings, whereas those who obtained permits in violation of the law will be punished along with the state employees who forged the documents.
"We held several meetings with Engineer Ahmed al-Seginy, Chairman of the Local Administration Committee in the House of Representatives, and Engineer Imad Hammouda, Chairman of the Housing Committee, to overcome the problems facing m citizens," Gazzar said.
He explained that the new bill will address the situation of reconciliation for four cases – namely, those who submitted reconciliation requests and did not meet the conditions and did the violation after the reconciliation law was issued, those who did not commit to reconciliation and did not submit reconciliation requests, those who did not commit violations and want to be equalized with those who committed a violation, especially with regard to building a top floor in violation of the law, and those who will commit a violation later.
At a time when the state is building a new administrative capital, it is developing the current capital, Cairo in accordance to a timetable, he added.

He denied that Cairo will be neglected at the expense of the new administrative capital which he described as the capital of "money, business and governance".
In September 2020, Prime Minister Mostafa Madbouly called on citizens to take advantage of the reconciliation law regarding building violations.
The Prime Minister warned that unplanned and random constructions have wasted large areas of agricultural lands. Madbouly said that unplanned constructions make up 50 percent of housing blocks across the country.
If these violations are not addressed the minister warned that more agricultural lands will continue to be carelessly destroyed, while also taking up space the government could use to build services that citizens need.
In May 2020, Egypt announced a six-month ban on construction permits, and halted construction of private housing in major cities to crack down on violations.