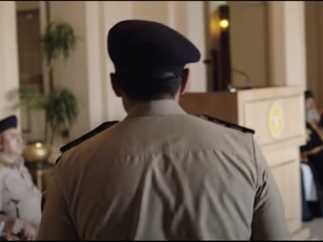 The official promo of the "al-Ikhtiyar 3" series (The Choice 3) series which is scheduled to be shown during the holy month of Ramadan, described the incidents it portrays as the most critical  96 hours in the history of Egypt.
The series talks about the period in the history of Egypt since Egyptians took to the streets of Egypt on June 30 to reject the rule of the Muslim Brotherhood.
This also continues all the way to July 3 when former Minister of Defense and current President of Egypt Abdel Fattah al-Sisi ousted late President Mohamed Morsi from rule.
The decisions of July 3 included the temporary suspension of the constitution, the appointment of head of the Supreme Constitutional Court Adly Mansour as interim president of the republic, holding early presidential elections.
Mansour the authority to issue constitutional declarations during the transitional period.
The decisions also included the formation of a cabinet comprising of national competencies with all the powers to manage the interim stage.
They aldo include the formation of a committee that represents all spectra of political powers to review the proposed constitutional amendments to the constitution, which have been temporarily suspended.
The Supreme Constitutional Court was instructed to expedite the approval of the House of Representatives election bill and to hold parliamentary elections.
The promo of the series showed Ahmed Ezz, Karim Abdel Aziz and Ahmed al-Sakka, who played the roles of officers with the National Security Agency and the General Intelligence.
Khaled al-Sawy, who plays the role of Muslim Brotherhood Deputy Supreme Guide Khairat al-Shater, and Abdelaziz Makhyoun, who plays the role Muslim Brotherhood Supreme Guide Mohamed Badie.
Actor Amir al-Masry appeared in the promo while leading a large march rejecting the rule of the Brotherhood during the June 30 uprising.