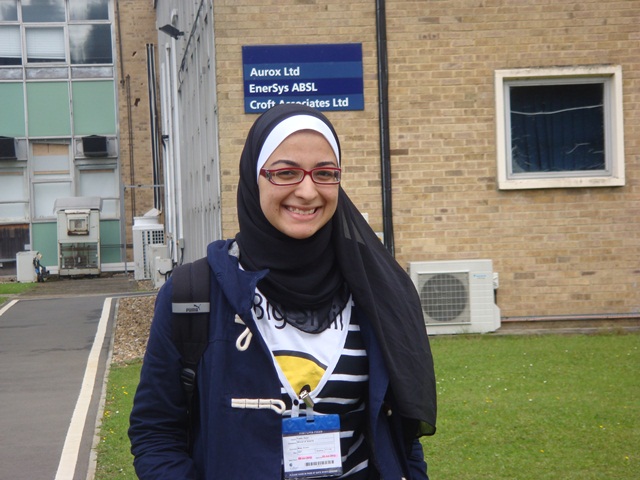 Egyptian student Azza Faiad found a cheaper, novel way to generate biofuel by breaking down plastic waste — all while she's only 16.

The promising scientist won a special price in the 23rd European Union Contest for Young Scientists last September, when she presented her project, which could transform Egypt's large amount of polyethylene plastic waste — estimated to reach 220,000 tons a year — into biofuel, using an environmentally friendly method. She now hopes to turn her project into a reality.

"The ongoing fuel problem Egypt is facing is what made me think of designing this project in the first place," Faiad explained.

Faiad was rewarded a week-long stay at Culham Science Centre in the UK, where 28 countries are doing a huge experiment on nuclear energy supported by the European Fusion Development Agreement.

"Although Faiad's project is different from the work we do here in Culham Centre, she was granted this award to promote excellence in science and invest in future science leaders," said Duarte Borba, senior adviser to the leader of the EFDA.

The EU contest is an initiative that promotes cooperation and exchanges between young scientists, and gives them the opportunity to be guided by prominent scientists.

Faiad did her yearlong research work at the Bibliotheca Alexandrina, where she met her mentor, Nourwarnda Sorour, a petrochemical engineering student.

Sorour took Faiad's project a step further by explaining to the young student more advanced scientific principles, and helping her develop the scientific basis of the project until she reached the final stage and applied for the contest.

"I found Azza a very committed and creative learner who gave the project adequate time and effort until the goal of the project was achieved," Sorour told Egypt Independent.

Another important member of the team is Tarek Fahmy, an expert with a PhD in chemistry.

He guided the two students through the practical parts of the project and taught them different mechanisms used in the experiments, precautions to be taken, and all of the industrial aspects of it.

As catalysts are substances that accelerate chemical reactions without affecting the reaction chemically, Faiad tried different catalysts to see how they would affect the gaseous products that result from breaking down high-density polyethylene.

The experimental work was conducted at the Egyptian Petroleum Research Institute. They experimented on three different types of catalysts — calcium bentonite, ammonium zeolite Y and DHC-8.

The project idea is based on prioritizing gaseous outcomes rather than the liquid products. That is why the calcium bentonite catalyst has been chosen as the best one — experimentation proved that the calcium bentonite not only turned out to be more efficient in producing more gaseous products that are then used in generating biofuel, but is also cheaper than the other catalysts.

"For a school student to come up with a method which amounts to tens of millions of dollars is quite extraordinary. And to have addressed it towards the extremely important issue of waste recycling also reveals an extremely practical approach," Phil Dooley, an EFDA representative, said.

The breaking down of polyethylene also produces some useful liquid products that are usually used as industrial solvents, cleaning fluids and other items.

"As we all recognize how technology transforms our lives through new ideas, we need to encourage young people to make use of science to address pressing issues," Borba said.

He added that it is always interesting to have creative minds gathered at one place, exchanging ideas over how to solve one issue with different approaches, which is one of the objectives of the contest.

Faiad's project presents the following figures as the proof of financial achievement potential. The amount of plastic waste in Egypt is estimated at 1 million tons, and polyethylene waste is estimated at 220,000 tons a year. They are worth US$132 million.

If the project is implemented on the ground, it would produce liquid and gaseous products whose worth could reach US$162 million.

Faiad is preparing the necessary papers to start applying this year for a patent through the Higher Education Ministry's patents office. As of now, there is no final vision of whether the government or the private sector will implement her idea on the ground. The project still needs more work and more staff to join the team, which requires people who can help with fundraising and other related tasks.

After the experimental phase produced promising results, Mamdouh al-Mewaly, a professor at the Egyptian Petroleum Research Institute, said the project can be implemented on a larger scale.

Sorour explained that implementing the project on an industrial scale will need further planning to see which machines and equipment are needed, where it can be implemented, and which safety measures to use.

Faiad participated in different experiments and science activities during her stay in Oxford in the UK. She also gave a presentation about her project at the Culham Science Centre on 20 July.
"I think this jigsaw made up of different people that fit together will show Azza that her unique and considerable skills could be useful in a collaborative context. School is very much an individual experience, but the really great achievements are usually made by teams," Dooley explained.

Egypt participated this year in this competition for the first time with three projects in the field of environmental science, in coordination with the Bibliotheca Alexandrina Science & Engineering Fair and the Research, Development and Innovation Program. The latter, a part of the Higher Education Ministry that is funded by the European Commission, aims at promoting science communication culture and bridging the gap between scientific research and industry.
This piece was originally published in Egypt Independent's weekly print edition.