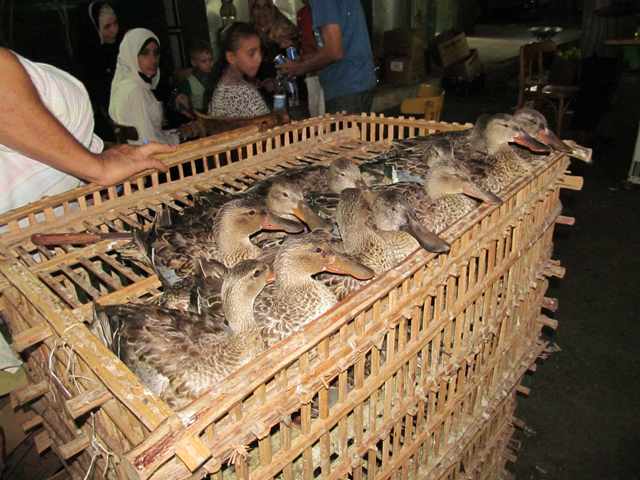 As winter bird hunting season continues, many environmentalists are at a loss for words as to how to prevent yet another illegal and unregulated hunting season.
Many conservationists are claiming this hunting season to be the worst they have witnessed to date.
Unregulated bird hunting is nothing particularly new to Egypt, and has been taking place as far back as most environmentalists can remember — the only significant decline being when the Bird Flu scare hit Egypt.
Bird Flu aside, hundreds of thousands, if not millions, of migratory birds are usually captured every year as they pass through Egypt during the autumn and winter migratory seasons, according to the last report from 2005 done by Nature Conservation Egypt, BirdLife International's domestic affiliate.
BirdLife International is a global partnership of conservation organizations that focus on birds, their habitats and global biodiversity.
However, since the Egyptian revolution began, bird hunters returned with a vengeance — due to harsh economic times, lack of security and political turbulence – and are now blatantly entering protectorates to hunt, breaking many local laws and international treaties in the process.
Trammel nets, large double layered nets used to effectively capture flying birds, are left 24 hours a day during the hunting seasons while hunters roam locations armed with guns. As a result, very few of the highly targeted birds, quails and ducks, are to be seen in Egypt south of its northern coastline.
During the autumn season, where quails are the prime target, Egyptian rangers are usually able to at least attempt to keep hunting out of the protectorates, as the majority of migrating birds are land birds. But this winter, a time when migrant birds are primarily water birds, like ducks, Egypt's protectorates are being severely attacked.
When migrating in the winter, waterbirds need to travel south by means of routes that ensure large pools of water, making the northeast of Egypt – where Lake Burullus, Lake Manzalla and Lake Bardawil are located – a primary route. These three lakes are either completely or partly protectorates, or have Ramsar Convention protected areas within them.
Ramsar is an intergovernmental treaty that embodies the commitments of its member countries to maintain the ecological character of their wetlands of international importance and to plan for the sustainable use of all of the wetlands in their territories.
"Because the birds migrate into the middle of these very large lakes, it is very dangerous for unarmed rangers to go in and approach thousands of hunters with weapons and tell them not to hunt," says Mohamed El Maghraby, a ranger at Ashtoum El Gameel protectorate, a 172 kilometer square protected area inside of Lake Manzalla.
The logistics of the protectorates being in the middle of water makes an already serious security vacuum a whole lot worse.
"They could just attack us and throw us in the lake and no one would even notice, even the police are too scared to do such a job," he says.
Rangers from Lake Burullus and Lake Baradwil share the same fears and sentiments.
However, staging an ambush is not exactly the desired method of prevention either, and most bird specialists and rangers understand that during such times, issues of bird hunting are secondary to the country's ongoing political turbulence.
"It's difficult to raise issues about birds getting killed when the same thing is happening to people," says Sherif Baha El Din, co-founder of Nature Conservation Egypt. "The solution is extremely complex, and honestly I wouldn't know how to prevent such hunting without cooperation [across the board], which isn't likely to happen."
Meanwhile, this season, many rangers find themselves sitting on the lakes' shorelines knowing that the protectorates are being torn apart.
According to some rangers, the lakes are covered with massive nets, with dead birds on sticks inside to attract more birds, as well as speakers set up to mimic duck noises. The hunting is so rampant that images of bats in nets are not uncommon.
"They're catching so much they don't have time to remove everything," says Maghraby, "so what hunters want, they take, and the rest they just leave to die in the nets."
Rangers told Egypt Independent that each month they hand in monthly reports, which highlights these issues, but are doubtful as to whether the reports are even looked at these days.
A couple of years ago, Wafaa Amer, the previous head of the Ashtoum al-Gameel protectorate, asked Maghraby to write a report on his findings and propose solutions. However, by the time Maghraby's paper was completed, Wafaa Amer was no longer the head of the protectorate and he believes the report still hasn't been looked at.
Solutions listed in the report state that the Egyptian Environmental Affairs Agency, the governmental body responsible for giving out hunting licenses, should reduce the amount of licenses issued, coordinate better with rangers and protectorates, establish minimal educational and preservation awareness, as well as try to create financial alternatives for bedouins through ecotourism.
The last solution being the most pressing, as the majority of hunted birds are sold to local restaurants or merchants and are a primary source of income for many of Egypt's bedouins.
However, Wed Abdel Latif, a bird specialist with the EEAA, explains that given Egypt's diverse demographics, unresolved territorial histories between the military, bedouins and private landowners, as well as the ongoing political turbulence, it is extremely difficult to create universal laws and regulations that apply to both bedouins and wealthy sports hunters.
He adds that the agency is also suffering from a lack of resources to provide alternatives, and that given the ongoing political turmoil, these issues are bound to just fall by the wayside.
"People are starving now, licenses or not they will hunt," he says. This is confirmed by environmentalists who say sometimes hundreds of hunters will "share" the same license. "It's a situation which requires full cooperation and attention from many different, opposing parties, and that is unlikely to happen now."
Unfortunately, environmentalists and rangers are aware of this, and hence many believe it is likely that protectorates will be destroyed until Egypt comes under international scrutiny, which will only further tarnish the country's image.
"It's just one of many disastrous situations that's occurring on the sidelines while the country tries to move forward," says Maghraby. "By the time anything is done there'll be nothing left to protect."