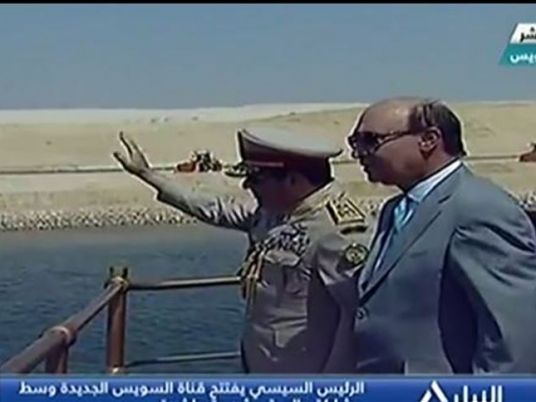 Egyptian President Abdel Fattah al-Sisi said Saturday that he has tasked the armed forces with completing the construction of Zewail City of Science and Technology.
The announcement came during Sisi's attendance of the first anniversary celebrations of the new Suez Canal, during which a moment of silence was observed in memory of the late Noble Prize laureate chemist, Ahmed Zewail.
Zewail City of Science and Technology, named after Ahmed Zewail, is a nonprofit, independent institution of learning, research and innovation. The concept of the City was proposed in 1999 and its cornerstone was laid on January 1, 2000.
The City lies on a 200-acre premises in the October Gardens of 6th of October City and construction works have been proceeding at a steady pace since 2014.
The entire project is estimated to cost LE4 billion, of which Dr. Zewail raised LE300 million. Sisi announced on Saturday that the first, LE1.9 billion phase of the project will be finished by October.
He called on Egyptians to continue to fund this project in each phase until the City is fully built, by pledging money to the project through the Long Live Egypt fund.
"If we truly appreciate scientists in Egypt, it behoves us to complete this project. Whatever happens, the armed forces are responsible for seeing the project through," Sisi said.
Edited translation from Al-Masry Al-Youm