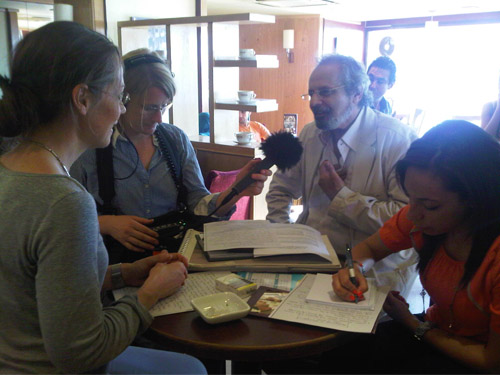 Every morning, Reda Baguiry opens his small store of radio sets, where shelves of antique radios collect dust, afraid that one day Egyptians might forget this important piece of their history.
Household radios have been in Egypt for over eighty years. They once broadcast the historical speeches of former presidents Gamal Abdel Nasser and Anwar al-Sadat, songs of Om Kolthoum and Abdel Haleem Hafez as well as news of soldiers fighting in Sinai in the October war in 1973.
Bagoury, 61, adored buying radio and telephone sets when he was young. In fifty years, he has collected more than 200 radio sets. "Today, I have many radios that that date back so long ago," Bagoury says.
In the small store, the oldest radios were manufactured under rule of Abdel Nasser and others made in Germany and European countries could also be found. Thus, Bagoury considers himself the largest trader of old radios and phonographs in Egypt. "Other people have the same profession, but I have many radios that go back to older years," he adds.
Bagoury believes that Egyptians do not appreciate antique radios as Arabs or foreigners do. "Egyptians do not know value of the antiquity like Arabs or foreigners. If they have them, they will get rid of them or sell them. As for the gulf and Arab countries, people like and estimate such antiquities. I can sell only one radio in five or six months as having antiques is not a priority for Egyptians," he says.
Bagoury has never thought of selling his antiques that he has kept for years, but after breakout of the 25 January revolution, his business is undergoing hard times, so he has decided to close his small supermarket and sell off his radios. "The older, the more expensive," Bagoura says.
Edited translation from Al-Masry Al-Youm