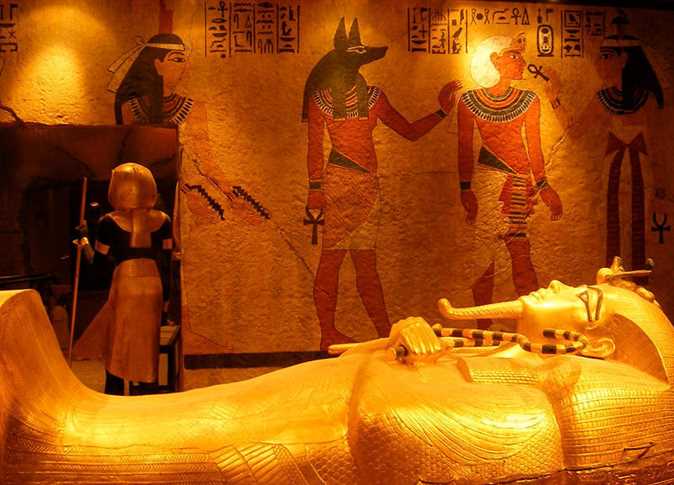 Egyptian Minister of Antiquities Khaled al-Anany on Sunday paid a visit to the Museum of Antiquities in the City of Culture and Arts, which is located at the New Administrative Capital.
Anany was accompanied during the tour by Secretary General of the Supreme Council of Antiquities Mostafa al-Waziry and a number of other ministry officials.
Although construction has been completed, work on installing the lighting system in the new museum is still underway.
The tour consisted of a visit to the main building of the museum, which has one floor and a large exhibition hall displaying a collection of artifacts, which includes a statue of King Ramesses II, as well as an annex hall featuring the walls of the Tomb of Tutu, which was discovered in 2018 in the al-Dayabat area of ​​Sohag Governorate. 
Following the arrest of a group of smugglers digging for artifacts in October 2018, the Antiquities Ministry carried out archaeological excavations at the site, which resulted in the discovery of the rest of the tomb, as well as human remains.
During the tour, officials discussed details of the museum exhibit, which narrates the history of the Egyptian capitals, starting with Memphis, later moving to Thebes and Minya, and moving next to Alexandria — Egypt's capital during the Greek and Roman era — before shifting to the city of Fustat and ending finally with Fatimid Cairo and Khedive Cairo.
Displays highlighting the administrative aspects of Egypt's many historical capitals will be dedicated to each era, and the exhibit will also feature various currencies illustrating the different political rulers of each period. 
In August, a cooperation protocol was signed between the Supreme Council of Antiquities and the Masa Group to create the new museum in the City of Arts and Culture at the New Administrative Capital.
Egypt's government is currently racing to complete construction of the New Administrative Capital, which was launched in 2017, as part of its 2030 sustainable development plan.
The new capital is located between Cairo and the Suez Canal region, boasting its own airport, and consists of 490 square kilometers of available land for urban development, in addition to 21 residential districts able to accommodate up to five million people, according to the Housing Ministry.
Edited translation from Al-Masry Al-Youm