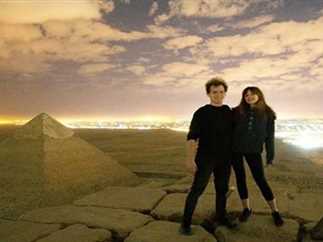 Egypt's Ministry of Antiquities issued a statement to respond to the spread of a recent pornographic video filmed by a foreign photographer, accompanied by his girlfriend, atop the Great Pyramid of Giza after the couple climbed it.
"Regarding the short video circulated and published yesterday evening depicting two foreigners climbing the pyramid at night, before uploading an obscene picture of both them, Antiquities Minister Khaled al-Anani has decided to ascertain the truth and take necessary action," the statement read.
The Ministry filed a memorandum on the incident with the top prosecutor's office, to investigate the matter, the statement added.
A similar video was posted online in 2014, which gained widespread attention in 2015 when local paper Al-Masry Al-Youm published a story on the incident, with screenshots that blurred out a woman's breasts.
The privately-owned paper described the video as depicting nudity and sex acts by Russian-speaking tourists, near the 4,500 year-old Giza pyramids and the Sphinx. Reuters was unable to confirm the contents of the video.
The earlier clip prompted a strong social media backlash, from across the relatively conservative Muslim country.
Edited translation from Al-Masry Al-Youm.