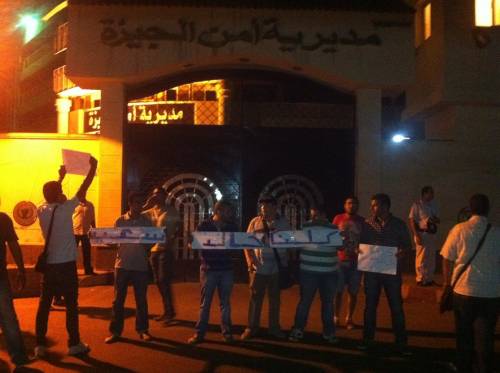 The April 6 Youth Movement said on Wednesday that it is boycotting the presidential elections of 26 and 27 May and vowed to continue working against the regime.
Coordinator Amr Ali said the majority of the members voted to boycott the elections. "Sisi is competing against himself in this unbalanced election," he said.
Though a court banned the activist group on 28 April, the movement said in a statement that it will not "recognize the verdict and will resume the activities outside the legal framework.".
A lawyer had earlier filed lawsuit urging Interim President Adly Mansour, Prime Minister Ibrahim Mehleb, Interior Minister Mohamed Ibrahim, Defense Minister Sedqy Sobhy and Public Prosecutor Hesham Barakat to suspend activities of the group and seize its headquarters for smearing Egypt's image and spying.
The April 6 Movement's founding member Ahmed Maher, spokesperson Mohamed Adel and activist Ahmed Douma were sentenced to three years in prison and a LE50,000 fine for protesting in front of the Abdeen court, charging them with assaulting Central Security Forces, injuring six soldiers, showing force outside Abdeen court, staging a protest without notice, assembling, suspending traffic and sabotage.
The April 6 Movement stepped up activities following the controversial protest law passed by the interim government restricting freedom of assembly by requiring protests to receive prior authorization from the Interior Ministry.
The UN, EU and United States all criticized the law, stressing that fundamental human rights must be respected in the crucial time of transition.
The April 6 Movement was a main opponent against rule of toppled presidents Hosni Mubarak and Mohamed Morsy.
The group was formed upon calls for a general strike on 6 April 2008 in solidarity with protests of spinning and weaving workers in Mahalla city against price hikes and low wages.
Edited translation from Al-Masry Al-Youm