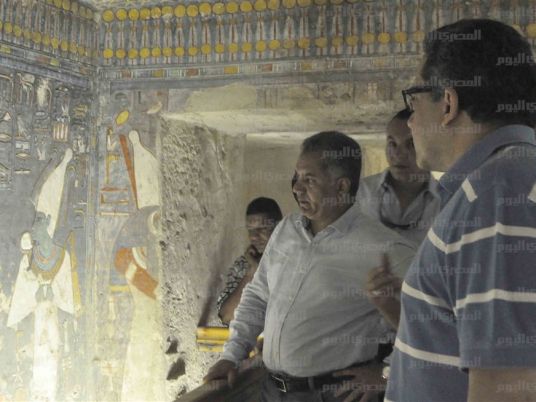 Antiquities Minister Mamdouh el-Damati announced the discovery, on Monday, of parts of an archaeological compartment that dates back to the Ptolemaic period and carries images of landscapes that represent King Ptolemy VIII.
The discovery was made when a group of people were arrested while digging under a house near Edfu Temple, according to Damati.
A committee of archaeologists was formed to inspect the site. It discovered part of the compartment five meters under the ground.
The compartment, which has yet to be dug out of the ground, is expected to reach 12 meters high, said Damati.
The part that has been discovered bears some images showing Ptolemy VIII presenting the justice symbol "Maat" to the god Horus. Behind him stands the goddess Hathor.
The compartment extends under several houses, said Nasr Salama, director general of Aswan antiquities. He added that experts are studying ways in which to dig the monument out of the ground.
Edited translation from Al-Masry Al-Youm