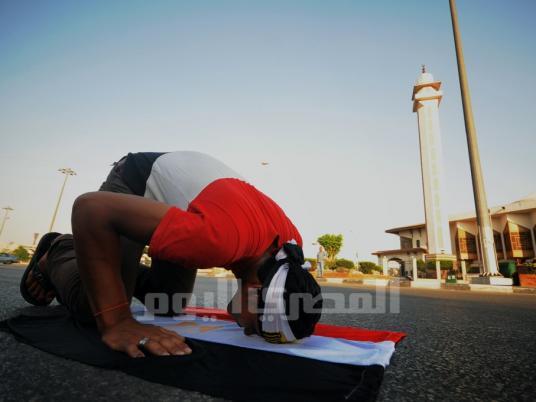 Egyptian football stars Mohamed Elneny and Ibrahim Salah took part in a chargity football match on Thursday in aid of debt prisoners in the city of Mansoura.
The proceeds from the match, which took place on the pitch of Geziret al-Ward club, will be used to pay the debts of prisoners at Mansoura Public Prison.
Neny, who plays for Arsenal Football Club, refused to give statements to journalists who covered the event, but stressed his commitment to his Arsenal contract. The player had is photo taken with fans and children who attended the match.
A large number of Geziret al-Ward club members and officials bought the tickets of the match after Neny and Salah, who plays for Egypt and Semouha club, were announced as taking part.
Dozens of women are imprisoned for failing to pay their debts, including installments for cookers, washing machines and other household equipment, much of it purchased for their daughters' marriage.
Article 341 of the Egyptian Penal Code provides for both fines and imprisonment for those who fail to pay their debts.
However, some lawmakers argue that the penalties violate international conventions signed by Egypt that guarantee personal freedom and non-confinement in debt cases.
Many charities and NGOs have launched initiatives to pay the debts of prisoners in exchange for their release.
The law, though, states that those sentenced to prison time for failing to pay debts must serve their custodial sentences, regardless of whether the debts are paid off.
Soon after coming to power, President Abdel Fattah al-Sisi launched a campaign dubbed "Egypt with no debt prisoners".
The 300 cases of debt prisoners represent a combined total of LE1.3 million in debt, according to campaign coordinators' estimates.
Edited translation from Al-Masry Al-Youm