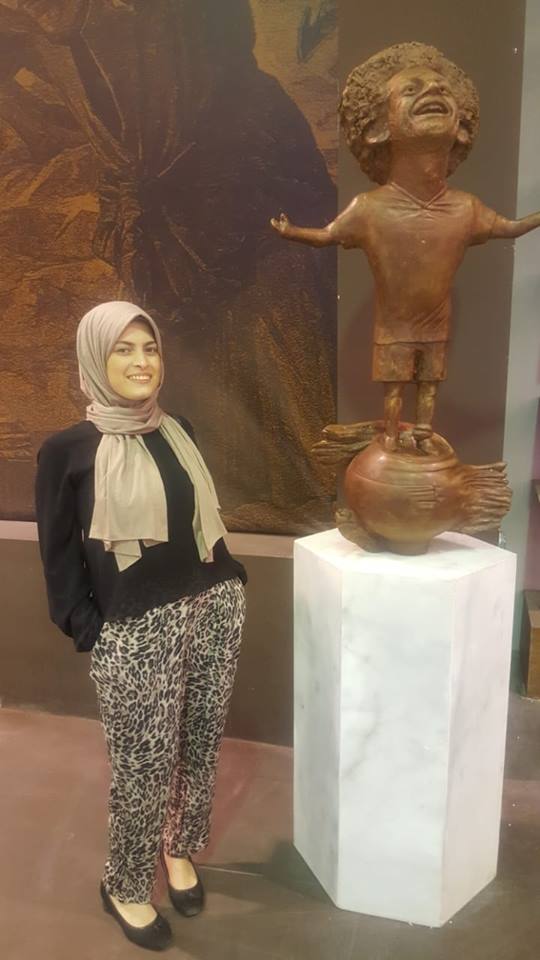 Sculptor Mai Abdallah defended her sculpture of Egyptian football legend Mohamed Salah, currently being displayed at the World Youth Forum (WYF), after receiving harsh criticism on social media.
In a Facebook post, Abdallah explained that the sculpture wasn't intended to go on display in the first place, but was just learning material for her instructional videos.
"When I began working on this sculpture, I was not working on it for the WYF, or my display, I started this here with you. I explained every single step, and together we reached a good phase," Abdallah told her readers.
"I only intended this for people who were not professional but had a talent, and wanted to learn simple ways to start their journey, if you go back to my older posts, you will find all the details and how everyone benefited," she added.
"I did not put much thinking into the design of the sculpture as much as I wanted to help people. Many followed my steps back then and learnt how to start on their own from beginning to end, despite their sculptures being different from mine. It was just an explanatory sculpture, which I did in a hurry because I was keen on posting a new step every day, despite the pressure to finish the sculptures for my upcoming exhibit,"
"Then I took the decision to present the sculpture to the WYF. Up until the cast phase, which you see in the photo, where the sculpture is white, I liked the statue and was proud of it. Generally, I do not like anyone to interfere with my work at all since every detail matters."
"But when the WYF insisted that the statue be bronze in color, I had to have someone else do it, as molding takes time and effort. I was shocked by the result on the final day before I had to give the statue to the WYF, but what was I supposed to do?"
"Of course I could not fail to deliver and I could not tell them I did not do the work, because they paid for it and wanted it. If this was my private exhibition, I would have only shown it once I was satisfied with it."
"Anyway, this was the end result. I am not sad or upset, nor do I feel any regret," she concluded, "I have done everything I could and god only knows how much effort I've exerted into this. To have the statue look bad after all I've done must be god's will."
"Therefore, I will not let negative comments bring me down, or affect me at all. I just hope people will learn respectful criticism, because not anyone can tolerate the kind that I have suffered, but I am strong."
"If I were not strong, I would not have made a graduation project that had all of Egypt in awe, neither would I have continued to excel, and will continue to surprise you all with my next project, which puts this one to shame: 22 statues will be on display in my next exhibit by the end of next month," she concluded.
Abdallah uncovered the Salah statue on Sunday during the second edition of the WYF, which runs from November 3-6 at Sharm al-Sheikh.
She told Al-Masry Al-Youm that she dedicated the statue to Salah as she believes the player stands as a symbol of excellence in life for Egypt's youth, after FiFA selected him as a nominee for "Best FIFA Men's Player 2018" award
Abdallah carved out the statue's gesture as "opening his arms to fans" after scoring goals, a movement Salah is famous for.
However after posting a photo of the sculpture on her Facebook account the statue began receiving harsh criticism across social media. Several Facebook comments highlighted the fact that the sculpture's face did not look much like Salah's, while others commented on the shape of the hands. Commenters also attacked the fact that the proportions on the sculpture were unappealing.
Not all were harsh, as some comments defended Abdallah's work by saying it was like an endearing cartoonist depiction of Salah.
The backlash drove Abdallah to defend herself, posting a picture before the statue was poured into its bronzing mold and after, highlighting that it looked good while in the casting phase. It is important to note that according to Abdallah's story, she was not the one who did the bronzing step.
While this move caused some to sympathize with her, others attacked her for trusting people to finish the job and then blaming them when it went wrong.
Abdallah garnered instant fame last year after her statues, which she did for her graduation project, took social media by storm. Her statues were of legendary Egyptian comedians such as Marie Monieb, Abdel Fattah al-Kosary, Naguib al-Rihany,Hassan Fayek, Ikram Ezzo and Ahmed Farahat. People shared photos of her work on Facebook and contrasted them to the wave of ugly statues now all over Egypt's streets, saying her talent should be recognized and the street statues replaced by hers.
She was then invited to participate in the World Youth Forum 2017, presenting the Bronze Pyramid statue which was carried by eight men from different countries as a symbol of cooperation, unity and peace.
The Pyramid was transferred to the Heliopolis Presidential Palace following President Abdel Fattah al-Sisi's admiration of it.
Photo taken from Mai Abdallah's Facebook account