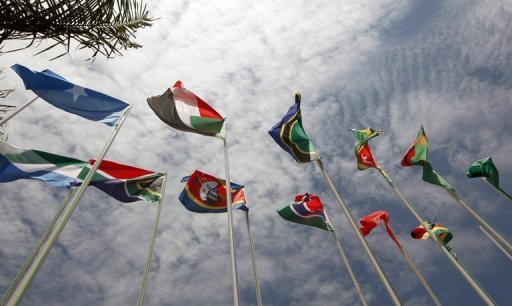 Mohamed al-Ameen head of the African Union mission expressed hope that there would be arrangements after the presidential elections for Egypt's reinstatetment as member of the union.
Ameen told journalists after a meeting with Foreign Minister Nabil Fahmy Sunday the African Union mission has experienced responsiveness from the side of the Egyptian authorities who have provided easy measures for the mission to conduct their work as an election oberserver. Ameen added that the mission has not met yet any difficulties but waits until the start of the actual work on Monday and Tuesday.
The mission will submit a report to the African Union within two months after the end of the elections. It will also hold on 28 May a press conference in a hotel in Cairo about its observations during the electoral process, he said.
Ameen said that the mission hopes Egyptians will elect a president to end the transitional phase regain Egypt's natural position at the African Union, saying: "It is what we expect after the results of the electtions [are announced]."
The presidential elections are scheduled in Egypt on 26 and 27 May between presidential hopefuls Abdel Fattah al-Sisi and Hamdeen Sabbahi.
Egypt's membership in the African Union was revoked after the military ousted Egypt's first democratically-elected president Mohamed Morsy. The union has asked Egypt to prove it is transitioning back to democracy in order to return its membership status.
Edited translation from Al-Masry Al-Youm