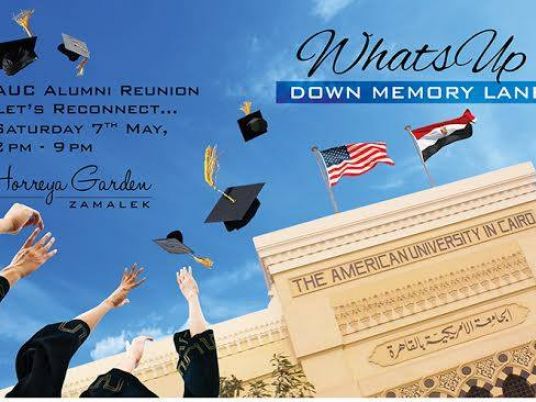 Five days after it was started, a Facebook page centered around the American University in Cairo (AUC) named "WhatsUp in AUC" had already garnered about 25,000 members, say its adminstrators, topping the Guiness World Record for fastest growing Facebook group.
According to a post from Loubna Olama, one of the group's administrators, the Guiness World Records office in Dubai has been in touch and the claim is currently being authenticated. If the record-breaking feat becomes official, it will be further affirmation for a project that its founders consider a success on several levels.
While the group provides a way to stay in touch with old university pals, it is also seen by many as a means of translating a good education — and good connections — into useful career and business moves.
Masterminded by a former student of the AUC, the social media group is only accessible to the university's staff and students past and present, and that exclusivity is maintained by the administrators who have to approve any new members.
Much like other university social media groups, a certain nostalgia permeates a large number of the posts, whereby alumni post photographs of their university careers, of their friends and all reminisce about the "good old days".
AUC graduate student Farah Mohamed says, "The group opens up a platform for people to reconnect and reminisce about things that make them happy. I like that about the group. My mother attended AUC, and seeing some of the posts on the page made me see her as a student, just like me. That made me happy."
Members also make posts about their lives after university, problems they are having that they want advice for, and other members respond.
The group even has a romantic side, with some single members posting adverts regarding their seach for love. Other posts include comedic pictures and memes relating to people's experiences at the AUC.
The sense of solidarity and unity among the AUC community can be seen in many posts, with hashtags such as #AUCian_and_Proud popping up.
But perhaps more significant is the role the group plays as a networking base for AUC alumni, helping them promote their businesses or post available job opportunities — a fact that has many supporters and some detractors.
AUC Professor, Sofia Selim says the group can play a valuable role in smoothing the future careers of AUC alumni.
"I started in 2006 and it used to be that my students would find jobs that they liked and that paid well as soon as they graduated, because of the caliber of their degrees. Now most of my students find it difficult to find employment when they graduate, and it seems that an AUC degree doesn't have the same value it used to," she said.
"It's like the members are using it to make up for the fact that their degrees don't mean as much anymore, and the networking opportunities restore some of the lost glory of the AUC degree."
However, some seem less comfortable with the idea of celebrating the advantages of an elite education.
"It's good to relive memories of the good old days, but I feel like the group is celebrating privilege in a way. Because looking at Egypt and its class system, AUC is an expensive school, and being able to afford it is a privilege that other Egyptians may not have," AUC undergraduate student, Simon Baker says.
"I think the group's networking potential for its members is an unfair advantage. For example, an AUC alumnus who gets a job through the page that may have been better suited for someone else who isn't an AUCian — that's not right."
Others, such as AUC graduate Ismail Arafa, appear to be underwhelmed by the virtual network's usefulness.
"I would use the group to network if it had a practical usage for me. I don't see anything wrong with that. But aside from that, I don't see a point to using social media as a platform for connectivity," says Arafa.
With the group's popularity growing daily, the administrators decided to take the idea to the next level by bringing the AUC community physically closer. A reunion has already been organized at Horreya Garden in Zamalek on Saturday, May 7.
Free passes are being given out at locations around Cairo, and members of the group need only to show their IDs for a pass that admits them and one guest.