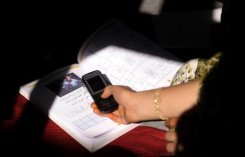 Egyptian Tax Authority President Mamdouh Omar is waiting for the green light to impose tax increases President Mohamed Morsy suspended last December, according to a statement Tuesday.
"We still do not know if the Shura Council [will] endorse [the tax hikes] by April," Omar said. "But we will present the new tax package at a press conference in due time."
He said the price domestic and foreign cigarette brands would increase LE0.75, ruling out rumors foreign brands would cost an extra LE1.25.
Meanwhile, Finance Minister Morsy Hegazy said the ministry is considering expanding the tax exemption ceiling to include people who make a minimum wage of LE1,200 and small businesses that earn LE50,000 or less.
He also said businesses would not be discriminated against geographically and that income taxes across the public and private sectors would not be raised.
Many expect the stamp tax on electricity bills for domestic consumption may be abolished, while sales taxes on mobile phone use would jump to 20 percent versus 18 percent.
Last December, Morsy signed off tax system reforms without notifying the press as part of program to boost revenues and seal an International Monetary Fund loan.
But on 10 December, state TV reported Morsy had suspended the decision due to public outcry. Citizens balked at the price increases and even leaders from Morsy's Freedom and Justice Party voiced their disapproval.
The reforms proposed major tax increases on cigarettes, soft drinks, alcohol, cooking oil and energy. In addition, the new laws would have levied licensing and property taxes and increased the tax rate for higher-income earners.
Edited translation from Al-Masry Al-Youm