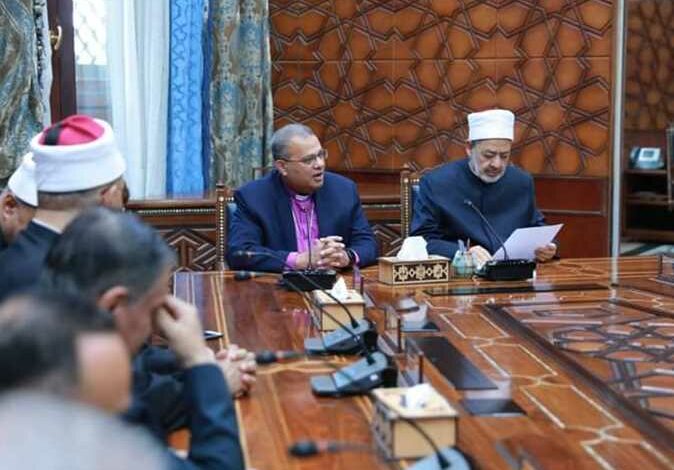 The Grand Sheikh of Al-Azhar Ahmed Al-Tayyeb on Saturday received at the headquarters of the Sheikhdom of Al-Azhar the  head of the Evangelical Church Reverend Andrea Zaki and a high-level delegation of leaders of the community.
The delegation congratulated Tayyeb on the advent of Eid al-Adha, wishing him and all Muslims continued peace, health and love, and affirming pride in the relations that unite the Egyptian churches and Al-Azhar.
The Grand Sheikh of Al-Azhar expressed happiness at meeting the delegation of the Evangelical Church, stating that these meetings contribute to strengthening the spirit of love among the people of the country.
Al-Azhar is eager to achieve true citizenship among all sectors of the Egyptian people, he said, in application of the teachings of the true Islamic religion.
The head of the Evangelical community affirmed the solidarity of the Evangelical Church with Al-Azhar in rejecting foreign attempts to impose abnormal and unacceptable morals and behaviors.
He expressed his appreciation for the great global influence of the Grand Imam and the role he plays in spreading the values of peace, dialogue and brotherhood in Egypt and the world.