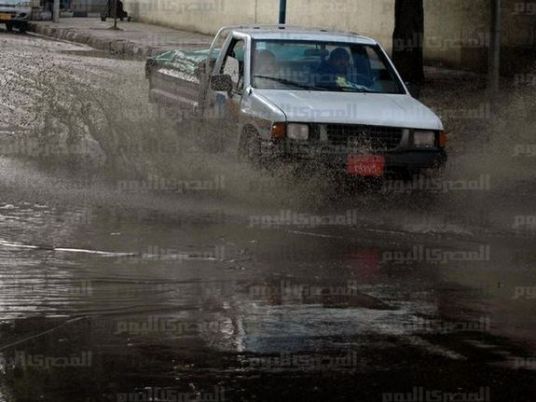 The Egyptian Meteorological Authority said Wednesday the current wave of bad weather will continue throughout Thursday.
Low-level and medium-level clouds are expected across most of the country. Heavy rain and thunder are expected in the north coast, Lower Egypt, Cairo, Sinai, the Red Sea mountain chains, and some Upper Egypt governorates.
The Mediterranean Sea will be turbulent as wave heights are expected to be between three to four meters. The Red Sea will also be turbulent as wave heights are expected to range between two and a half to three meters high. Wind will be northwesterly in both seas.

Egypt's Mediterranean province of Alexandria was hit Wednesday with a second round of thunderstorms causing flooding in some main streets and cross-sections.
Many citizens could not go to work and schools have reported a high absentee rate.
Authorities at the Alexandria Seaport closed the Alexandria and Dekheila straits on Wednesday for the second day in a row due to inclement weather and high wind speeds.
Heavy rainfall also caused traffic and the suspension of Alexandria's metro lines.
Alexandria witnessed violent rainstorms in late October that killed five people and forced former Governor Hany al-Messiry to resign.
Prime Minister Sherif Ismail asked governors of governorates hit by bad weather to declare Wednesday and Thursday an official vacation period for state institutions and schools if the situation required.
Heavy rains also hit Beheira, Kafr al-Sheikh, and North Sinai on Wednesday. One-hundred residents of Ofouna Village in Wadi al-Natroun, Beheira governroate, were evacuated after rainwater inundated the village.

Heavy rain caused power outages in Edko, Rashid City, and Kafr al-Dawar, Beheira.
The streets of Desouk City, Kafr al-Sheikh, were submerged under puddles and ponds Wednesday due to heavy rains, which stopped celebrations for the al-Ibrahimy Mouled, which began October 30.
Edited translation from Al-Masry Al-Youm