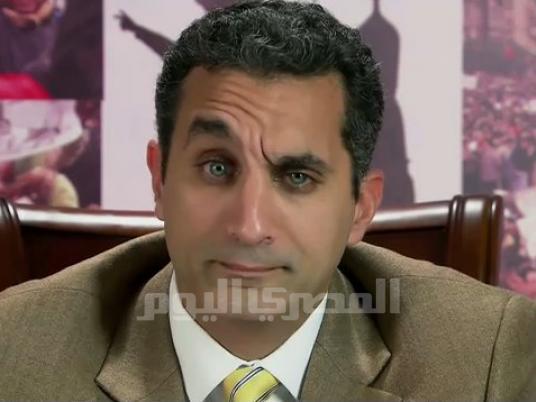 Bassem Youssef has praised two young actors at the center of a humiliating and controversial prank targetting police officers celebrating Police Day and the fifth anniversary of the January 2011 revolution on Monday.
Egypt's most popular former comic show host praised TV actor Ahmed Malek and comic show reporter Shadi Abu Zeid for a video showing them presenting unwitting, lower-ranking police officers with inflated condoms as festive balloons.
"Well done Shadi. Legally and constitutionally speaking, he did no wrong," Youssef, who had his comic show terminated in 2014 for politically satirical content, wrote on Twitter. "To whomever does not like it, eat your heart," he added.
"A strong state should be unfazed by jokes, even ridiculous ones…you are the ones who undermine the state's prestige," Youssef tweeted. "A whole state rising up to confront those kids is an insult to state prestige," he added.
The video drew mixed reactions from viewers. While some called for the pair to be punished for insulting police, others saw their action as a fair response to rights' abuses by police.
Youssef also slammed the administrators on Abu Zeid's show for distancing themselves from the video, which was not filmed as part of the show aired by private satellite TV channel CBC.
"The producing company and the program's crew confirm that the aforementioned (Shadi) does not represent them," a statement by Abla Fahita's Facebook page said, describing the prank as "at odds with ethical traditions" and "irresponsible". It said the show has nothing to do with what Shadi does outside it.
"What a shame, how ingrateful," Youssef tweeted, commenting on the statement.
The show's production manager, Wessam Naguib, also revealed that Abu Zeid would not be part of the crew for the second season. "Shadi's contract ended with the end of the first season…He was supposed to be with us in the second season, but after that improper video he posted, he won't be," Naguib told CBC during a phone call on Tuesday.
Edited translation from Al-Masry Al-Youm