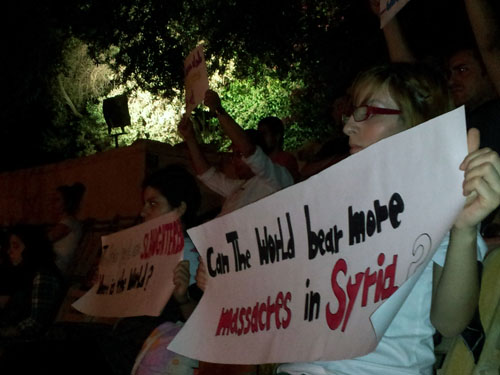 Given how he's presumably on his way to replace the eagle on the national flag, it's not surprising that Spongebob Squarepants has taken over Mounira's Abu al-Rish Children's Hospital. What is surprising is that he's joined by the likes of a few Looney Tunes characters, as well as Winnie-the-Pooh and his gang, and a herd of My Little Ponies. As a result, the hospital is now a shrine to copyright infringement, but the patients don't seem to mind.
"It's very nice," Karim Sameh Yousry whispers, with a bashful smile. The sick child lies bundled up in his hospital bed, surrounded by family members and, on the wall behind him, Bikini Bottom's most recognizable residents. Karim's mother, stroking her son's head reassuringly, elaborates. "These paintings on the walls have really lifted up Kimo's spirits," she tells Egypt Independent. "And for parents, it's nice to be made to feel like [the hospital] really does care about its patients."
True as that may be, though, the initiative to redecorate Abu al-Rish's gloomy interiors into something less reminiscent of a wartime field hospital wasn't taken by the institution's administration, but rather by a group of volunteers from the Qasr al-Aini Medical College, calling themselves the Fikr Shabab (Youthful Thinking) Group. With the help of colleagues from the Applied Arts School, as well as a handful of engineering students, Fikr Shabab has spent the past two weeks repainting the walls at Abu al-Rish, and covering them with a child-friendly cast of popular cartoon characters.
"We launched this initiative last year, but on a much smaller scale," says Mona Salama, one of the group's organizers. In 2011, Fikr Shabab managed to repaint a total of three wards; this year their efforts will yield almost seven times that result. "Our aim," the twenty-two-year-old says, "is to repaint every room in the hospital."
The idea came about after the medical students, who regularly visit the hospital for their theoretical lectures, became dismayed by its increasingly dismal state. "The children who come here have to deal with not just their illness or condition, but also with being away from home, taken out of school, and missing their friends," Salama says. "We [students] would just come here as doctors in training, or visitors spending an hour or two, and we'd leave feeling extremely depressed. So we started thinking about the kids who actually have to live here."
"These kids," she adds, "they don't care about whether or not their doctor is on time, or how well their medicines or treatments are working. They just want to feel safe, and [at ease]."
The initiative, which the group has dubbed the Cut and Paste Project, despite the lack of any cut-and-paste type activities, took some planning. "The idea wasn't fully developed at first. We couldn't decide if we would just paint the walls in bright colors, or add some designs." Once the latter option was agreed upon, the group printed out a collection of cartoon characters and screen captures and took them to a proper print shop, where the images were transferred onto a special paper so that pressing them on a wall would leave an outline to follow. "We're not artists, even though we have some helping us out," Salama confesses. "So, we needed to come up with a process that would allow anyone, regardless of their drawing skills or artistic talent, to help if they wanted to."
The Cut and Paste team then divided itself into groups, each assigned its own task, from choosing and mixing paints, to organizing and coordinating with the hospital administration, to fundraising. For example, much of the paint necessary for the initiative was donated by regional industry giants Sipes. Similarly, a significant number of brushes and other tools were given to them by the hospital's doctors.
"Everyone is behind this project," Salama smiles. "Some of the children even helped us paint, if their condition allowed it," she says.
There have, however, been some bumps in the road. Early into the initiative, parents were outraged at being asked to vacate their rooms, with their sick children, so that the Cut and Paste team could do its work. Every morning at 8 am, gurneys are wheeled out of rooms that still need to be painted, and lined out in the hallways, many of which were undergoing simultaneous renovations to the extent of being almost entirely dug up. The sight of child-occupied gurneys strewn along dimly-lit, rubble-coated corridors only adds to Abu al-Rish's already distressing atmosphere, leaving parents understandably more than a little miffed.
"There were problems, at first," Salama says. "Especially earlier on, before we started painting the actual designs, and parents thought we were normal hired painters. They were very confused as to why we were so young, or why there were so many girls among us."
The parents filed complaints to the hospital administration and, according to Salama, on a few occasions projected their anger onto the nurses, leading to some unpleasant incidents. "But the hospital explained the situation to them, and as they saw more of the work coming together, they started to calm down." Slowly, she says, the complaints turned into words of praise and encouragement, and even occasional offerings of assistance.
Touring the hospital's shared rooms and speaking to the parents, the opinions seem to remain mixed, with some commending the student-led effort, while others deem it as pure cosmetics; make-up on the proverbial pig.
"It's nice and all," one father shrugs his shoulders at Egypt Independent. "But, ultimately, what's the point? You've taken something that's broken, and made it look somewhat appealing. As nice as that is, even for the kids, it doesn't solve anything fundamental."
From a nearby bed, a mother disagrees. "It's made a huge difference," she insists. "It's even had a positive impact on the adults. You think the children don't appreciate it?"
The two, wishing to remain anonymous, continue to amicably argue; a debate that doubtless has been heard before by Dr. Ahmed Badr, the hospital's vice general manager, and mentor to the students involved in Cut and Paste. Having encouraged his students toward the initiative, as well as supplying them with personal donations and finances, Dr. Badr's stance on the issue is a strong one.
"Every hospital in the world, every institution, has to undergo renovations from time to time," he says. "Should we have just shut down the hospital until the work was done? Wouldn't that be far worse?"
Any further discomfort or inconvenience caused by the initiative, he suggests, can be explained — even justified — by the students' lack of experience. But, as he points out, at least the job's getting done. "Traditionally, this sort of work should be carried out by the government," he says. "But you know as well as I do, we could have waited forever, and they would have never gotten this done."
"We're living in a time when, if you want to see any improvement, you have to make it happen yourself," he says. "Everyone needs to have a positive role, no matter how small."
As for the hospital's nurses and janitorial staff, they're behind the initiative, but, as one elderly nurse grumbles to Egypt Independent, "only if those painters clean up after themselves."