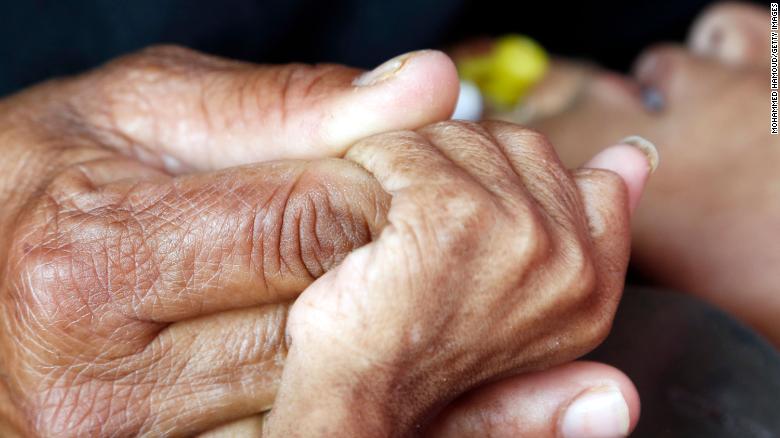 London (CNN) – Yemen's warring parties have renewed a two-month-long truce, first signed in April this year. It was one of the first concrete steps taken towards peace in years and a genuine moment for celebration. But for thousands of families, time is running out.
While many in the international community celebrate, some families in Yemen are left watching their children slowly die.
There are around 30,000 people with life-threatening diseases requiring treatment abroad, according to the Houthi-controlled government in the capital Sanaa. Some 5,000 of them are children. The truce has allowed for flights transporting patients out of the country, but that mainly works for families who can afford treatment abroad. Thanks to the devastating effects of the war and the humanitarian crisis it created — once described by the UN as the world's worst — most cannot.
For the last seven years, a Saudi-led coalition has tried to crush the Iran-backed Houthis, after the group — also known as Ansarullah — overthrew the internationally recognized government. The war led to a years-long fuel blockade imposed by the coalition and supported by the United States.
That support — and broader US backing for the military action in Yemen — is currently being challenged in a War Powers Resolution introduced by US Senator Bernie Sanders. The blockade, import restrictions and high inflation are all crippling Yemen's health care systems and its economy.
Only 24 out of 36 fuel ships have been permitted by the coalition to enter the Red Sea port of Hodeida since the truce was established on April 2. It was a welcome injection of fuel — both for the economy and the operation of health care facilities — but still below what the UN says is sufficient "to support essential services.
But beyond the statistics, here are some of the lives impacted by that reality.
Raneem Alkhalid is turning two in September. She was born with Down syndrome.
"She is an angel sent to us. I have four other children and she — my youngest — has my heart," her father Abdelrahman says.
When Raneem started suffering from shortness of breath, none of Yemen's health facilities were equipped to offer a diagnosis. Luckier than most children in the country, Raneem's family were able to send her with an aunt to Cairo in search of treatment. There she was diagnosed with weakness in the blood vessels of the heart and her aunt was told she required an operation to insert a stent to keep them open and pumping blood.
The surgery and the associated expenses came to $10,000 and a date was set for June 6. That's where the family's luck ran out. They didn't have the money to pay and the date of the operation came and went.
"We have lost too many children in the last seven years of war," Dr Abdulrahman Alhadi, who heads Yemen's National Oncology Center, told CNN. "They were waiting for a mercy, which never came."
In his center alone, more than 300 children have died waiting to travel abroad for treatment. Dr Alhadi sent CNN a video of one of his patients, five-year-old Mohammed Salman. Both Mohammed and his six-year-old brother were told they needed a stem cell transplant for bone marrow failure caused by their hereditary aplastic anemia. His brother passed away five months ago, before the blockade was partially lifted. Now Mohammed waits alone.
"There is nothing harder for parents than to feel helpless when it comes to saving their children's lives, Aisha Jumaan told CNN.
Jumaan's US-based Yemen Relief and Reconstruction Foundation is one of the few organizations trying to support families seeking treatment abroad. But the average cost of treatment for a child comes to $10,000. That would amount to roughly $50 million needed in total for children in need of life-saving treatment. It's an uphill battle to save lives that can only be won with a coordinated and systemic response to Yemen's crisis.
The bombs have stopped but preventable deaths in Yemen won't end until the blockade is fully lifted and the war-fueled economic collapse is reversed. For now, the only thing that brings joy to Raneem and her family is music.
"When I start playing the children's songs she loves she doesn't even notice the pain," her father says. "When she laughs and sings, it's like everything around us is song. She's an angel and I would give my life to keep her with us."
To contribute to the effort to help Yemen's children with life-threatening illnesses, you may donate to the Yemen Relief and Reconstruction Foundation at https://yemenfoundation.org/