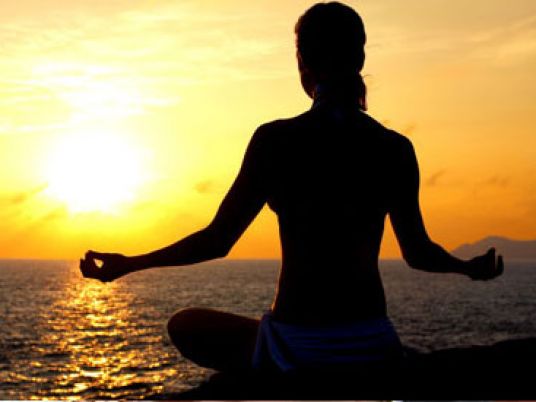 Millions of yoga enthusiasts bent and twisted their bodies in complex postures Sunday to mark International Yoga Day.
Indian Prime Minister Narendra Modi spread his mat among rows of people, including his Cabinet members and foreign diplomats, at New Delhi's main thoroughfare, which was transformed into a sprawling exercise ground.
Thousands of people dressed in white sat on yellow mats under the Eiffel Tower, and similar events were held in Bangkok, Kuala Lumpur, Seoul, Beijing, Manila and other places. Modi had lobbied the UN to declare June 21 as the first Yoga Day.
"We are not only celebrating a day, but we are training the human mind to begin a new era of peace and harmony," Modi told participants. "This is a program for the benefit of mankind, for a tension-free world and to spread the message of harmony."
Schoolchildren, bureaucrats, homemakers, soldiers and ordinary folk took part in the exercise, held in all Indian state capitals. In Modi's home state of Gujarat, yoga events were organized at nearly 30,000 places, state officials said.
In Taipei, more than 2,000 participants rolled out mats and performed 108 rounds of the "sun salutation" – the sequence of poses often practiced at the beginning of a routine as the sun rises.
"They give themselves a piece of time to observe their mind and their heart, which I think in the modern society we need a lot," said practitioner Angela Hsi.
Fazel Shah, an Indian pilot working for a Middle Eastern airline, rushed from the airport on his stopover in Taiwan to join the event.
"Isn't it awesome? I mean, just look at the number of people who are here, embracing it," he said.
He said yoga was probably born in India but belongs anywhere. "If you go up from where I am and look from the sky down, you don't see borders, you don't see religions, you don't see nationalities, you just see one group of people. So, I just go down and meet up with them, that's all."
Many believe that yoga, the ancient form of exercise, is the best way to calm the mind and the best form of exercise for the body.
Indian officials said more than 35,000 people participated in the New Delhi event that was also an attempt to set a Guinness World Record for the largest single yoga class at a single venue. Guinness representatives said they hired more than 1,500 members of a global accounting firm to count participants.
India's Defense Ministry said that soldiers on the Siachen Glacier, the world's highest battleground in the Himalayas, and naval cadets on navy ships at sea also would be participating in the Yoga Day events.
Although Modi's message was one of peace and harmony, many in India were concerned that the push for yoga was an attempt by Hindu groups to give a boost to Hinduism.
Many Muslims objected to the government's exhortations to join the public exercise programs. Some Muslim leaders said yoga was a Hindu practice.
The government quickly dropped a plan for the "sun salutation" exercise, which Muslims found objectionable because it implied the sun was a deity. Also dropped was the Hindu "om" chant.
Some Christian groups were upset that the mass yoga sessions were being held at a time when they usually attend Sunday Mass.
Others were skeptical about the time and money spent by the government on Yoga Day.
"The government organizes these hyped-up events," said Sumita Rani, a primary school teacher in South Delhi. "Last year was the Clean India Campaign. What came of it? This city is as filthy as ever."